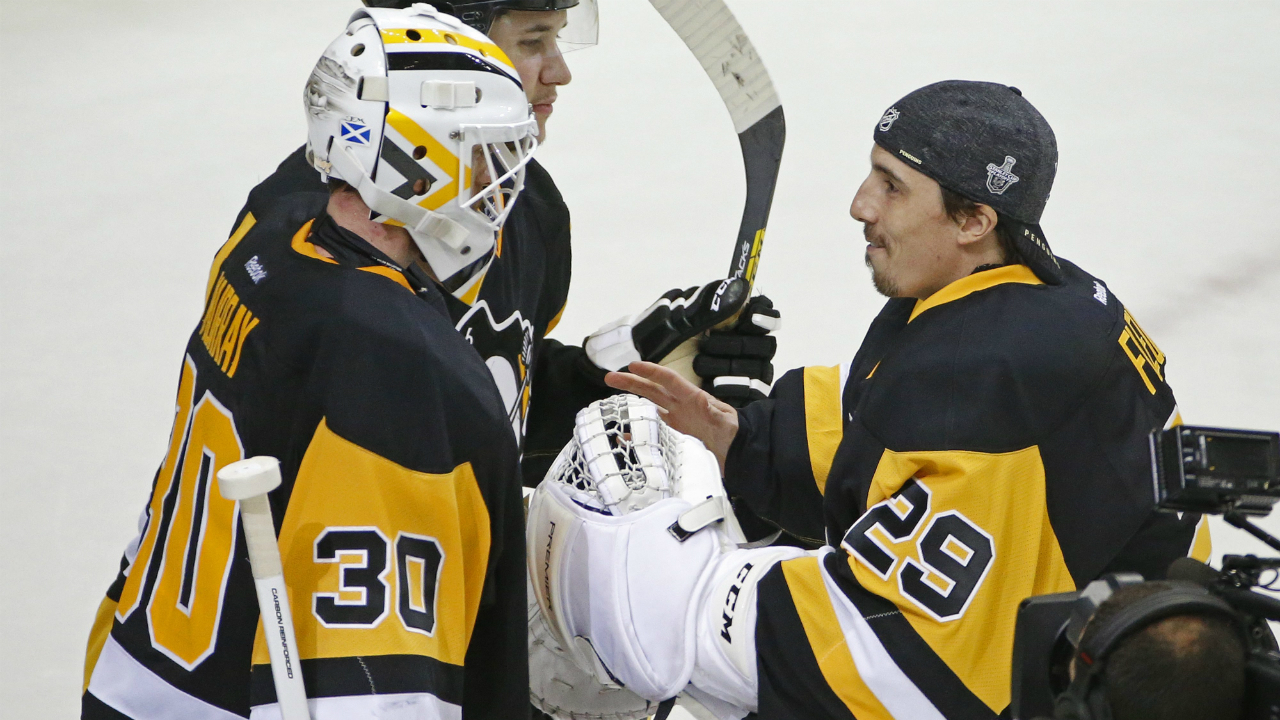 The goaltending situation is more complicated than we understand right now, but it's okay.
The Penguins have a good problem on their hands.

We know it.

They know it.
Jim Rutherford knows that having two Stanley Cup winning goaltenders under contract going into the 2016-2017 season (with a combined $6.2M cap hit) is a problem any other team in the NHL would love to have. Marc-Andre Fleury has the 14th highest cap hit for a goaltender going into the 2016-2017 season. Marc-Andre Fleury isn't an expensive goaltender:
just ask the New York Rangers
.
The Penguins' long-term plan is simple:

Compete for a Stanley Cup until 2021.

After that, all bets are off.

This team will look decidedly different in 2022, for better or for worse, and this will weigh on decisions related to the goaltending situation.
Jim Rutherford signed an extension for another 3 years (until 2018-2019), and that should indicate that he sees the potential for another Stanley Cup run in that time.

In the past, Jim has made some moves that many fans thought were peculiar– if not ludicrous– but it all came together in 2016.

It worked.
The most poignant example of a trade that could only come from Jim Rutherford's crystal ball came in 2015.

He traded a young and talented former first round pick in Simon Despres for Ben Lovejoy.

Having just won a Stanley Cup, it's easy to look back on the past with rose-colored glasses, but this move was thought to be outright bizarre.

Jim saw it as a move that put a veteran presence on the Penguins blue-line, but more importantly, was a move that was good on the wallet.

A move that might have even gave him the latitude to later acquire another player, like Phil Kessel.

His
critics were quick to remind him
that he let young talent walk for a cheaper, older, "what you see is what you get" defenseman.

The Ducks might have won that trade on a talent-basis - but you can't argue with a winner.
If Jim wants to win again, get ready for a wild season.

Get ready for moves that might make you cringe.
One of those moves will expectedly involve a goaltender.
Matt Murray
might not be a Pittsburgh Penguin by the trade deadline, just as easily as Marc-Andre Fleury might not be.

And it has less to do with age and talent than you think.
Matt Murray
is very much the cheaper asset in net for next season – that's no debate.

But he is a restricted free agent by season's end.

Any hockey fan that remembers the
Shea Weber
offer-sheet fiasco
($110M over 14 years) knows that offer-sheets in restricted free agency can become a nightmare for the general manager.

Jim Rutherford knows this, and he has likely already tried to sign Matt Murray through unrestricted free agency, as he did this season with Olli Maatta ($4M AAV).
If Matt Murray signs an extension the cap-hit increase will cause Marc-Andre Fleury (or another star) to be on a plane the next day from cap-related implications alone.
Matt Murray
just won a Stanley Cup as a rookie.

He was one of the best AHL goaltenders in the league's history.

Although he's only seen a small sample of NHL games, he hasn't squandered a moment.

With all of that said, Matt Murray's agent is undoubtedly well aware of the payday that could come on offer-sheet day after the 2016-2017 season.
The Penguins' cap situation isn't getting much better after next season ($74M to $56M).

Dealing Fleury this offseason without having a firm contract on Matt Murray, and then potentially losing Matt Murray to a ludicrous offer sheet (like the Flyers gave to Shea Weber) could throw a wrench into the Penguins' long-term plan, and Rutherford won't allow it.
I'm not a strong advocate for either goaltender, but the decision will be complicated.

The complication comes from three factors:
How much stake the Penguins front office will place in

Matt Murray

's NHL-play thus far

How much the Penguins are willing to pay him for his limited, yet solid NHL play

How much more

Matt Murray

and his agent believe they may be offered in restricted free agency
The decision isn't about Fleury versus Murray in the traditional sense.

This situation is about which goaltender will have the most strategic contract to compete for a Stanley Cup until the core players (Crosby, Malkin, Letang, and now Kessel) are nearing the end of their respective primes.
Count me as someone who won't be surprised if Fleury stays and Matt Murray is traded before the end of the season for a valuable return.

And, count me as someone who also wouldn't be surprised if Jim Rutherford comes to terms with Matt Murray and his agent to a contract extension through unrestricted free agency with an AAV of less than $5.75M and Fleury is then traded.
I will only be surprised if Marc-Andre Fleury is traded before Matt Murray signs a contract extension.
It's not an argument of who's better, or who has more potential. No matter who stays or who goes, this team isn't a team built around goaltending.

This team is built around running the score up and never letting the foot off of the gas.

But, goaltending has a place on this team.

The Penguins' front office values goaltending.

Trust in the fact that their singular focus is about the success of the whole team – of which the goaltender is only one (albeit, significant) component.