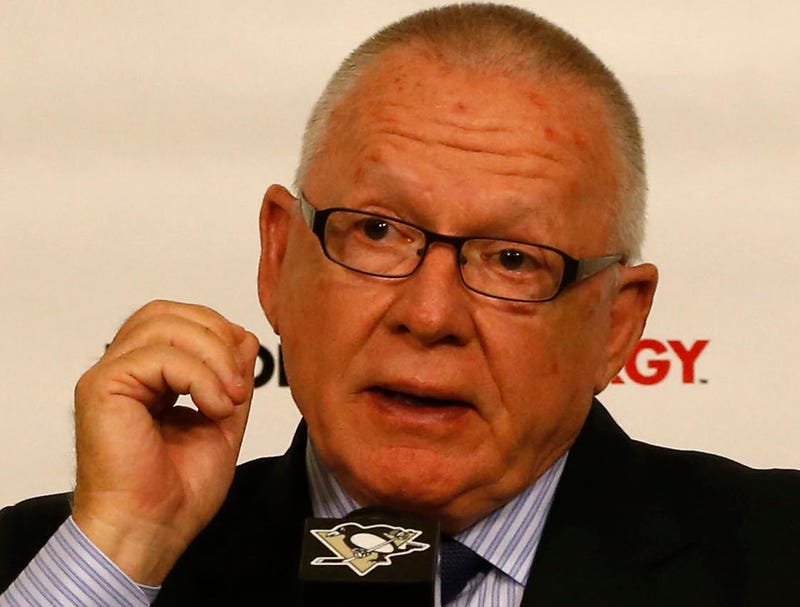 In case you spent last night sleeping, the
Penguins have traded
David Perron and Adam Clendening to the Anaheim Ducks for Carl Hagelin. At this point I don't think I need to go into too much depth on my thoughts about Jim Rutherford - he was a terrible hire who has made numerous questionable moves that call into doubt his competence in building a contending team. The Hagelin trade is another nail in the coffin as far as Rutherford's tenure in Pittsburgh is concerned. He's not a defenseman, he's not a top 6 winger, and he's not salary cap relief. It's a trade that completely ignores the reality of the situation the Pens find themselves in.
This isn't a defense of David Perron, because his play has been indefensible. When you've played 86.5% of your even strength TOI with either Sidney Crosby or Evgeni Malkin, as Perron has done this season, you better have more offensive output than 0.86 pts/60. That's an AHL-caliber output not even accounting for the fact that he's been skating with two of the best centermen in the game. And he's certainly had a negative effect on both players. The Pens paid a premium to get Perron from the Oilers at the beginning of January last season instead of at the trade deadline. It was a bit of an overpayment at the time, butt they were gambling that the slumping Perron would turn it around in Pittsburgh. It backfired on them, even more so when considering that 1st round pick jumped to 16th overall during the second half of the season. It's hard to levy too much criticism against the front office with the benefit of hindsight knowing that Perron's offensive skills would never make it to Pittsburgh, but it's certainly an expensive move that doesn't inspire much confidence in a group that's lacking in that department.
But the best part about Perron as a player this season was that he was going to leave once the year was finished and clear his $3.8 million cap hit from the books, which the Pens could desperately use to address weaknesses at defense and in their top 6. With the
weakening Canadian dollar
and escrow concerns threatening to keep the cap ceiling low, coupled with star salaries continuing to eat up larger chunks of cap space across the league, the Penguins could do damage in free agency with cap space targeting complementary pieces for the top of their lineup. Carl Hagelin throws a $4 million wrench into addressing those needs.
Carl Hagelin has some good qualities - he's a good possession player with speed and defensive ability, but at the end of the day he's still a 3rd line player making $4 million AAV on a team that didn't need more third line players. His pts/60 has dropped each of the five seasons he's been in the league. At 27 years old, he's unlikely to improve at this point of his career and could very well exit his prime before his current deal is finished, which will run three more seasons after this year. He's struggling this season, much like Perron was when the Pens acquired him, but even if he rebounds to the player he was in New York he's nothing more than a 3rd liner. If he doesn't bounce back, it makes the trade even worse.
The Penguins also had to include Adam Clendening in this deal to get it done. In a perfect world, Clendening would have been playing big minutes every night in the AHL, but unfortunately he burned through his waiver-exempt status at a young age. At 23 years old with a strong AHL pedigree Clendening still can develop into a useful NHL defensemen. He's the type of mobile, puck moving defenseman that the team could use in the lineup that Jim Rutherford has seen depart Pittsburgh during his tenure at an alarming rate. It's puzzling that he'd be included to seal a deal to trade a struggling player making too much money on an expiring contract for a struggling player making too much money on a contract with term. Now with Hagelin in the mix the Penguins have 14 players under contract for $61.9 million next season, not including RFAs like Olli Maatta who will be up for a significant raise and not accounting for Pascal Dupuis' $3.75 million cap hit that could potentially impact the cap situation depending on how well the front office is able to manage his LTIR. The concerns with the Canadian dollar and escrow could drive the cap to remain in the neighborhood of $71.4 million next season, and that would leave the Pens with $9.5 million in cap space. With top 4 and top 6 concerns, the Penguins will have a difficult time addressing those needs during the next offseason.
Hagelin is likely an upgrade over Perron as far as this season is concerned, but not at a price that makes the deal worthwhile. There is absolutely NO scenario between now and the trade deadline where the Penguins should be looking to make moves that improve the team this season at the expense of future seasons, yet here we are again. Jim Rutherford continues to
bumble his way
through overseeing the team. He's shown an inability to manage a team with higher expectations than anything he ever saw in Carolina, where squeeking into the playoffs as a lower seed before bowing out wasn't only acceptable, it was a decent season by their standards. It was madness hiring Jim Rutherford in the first place, and it's madness than his incompetence is allowed to continue. The madness needs to stop so someone competent can begin building the franchise back up.