When the Pittsburgh Penguins decided in the spring of 2014 that they wanted to take the team in a different direction than the path they were on with Ray Shero and Dan Bylsma, they probably didn't realize how drastically different that would be in such a short time period. New GM Jim Rutherford and his army of minions quickly went about bringing in new players through a number of trades and free agent signings. Just a year and a half after the playoff collapse that cost Shero and Bylsma their jobs, players such as Nick Bonino, Matt Cullen, Eric Fehr, Patric Hornqvist, Phil Kessel, David Perron, Sergei Plotnikov, Daniel Sprong, Adam Clendening, Ian Cole, and Ben Lovejoy find themselves apart of the Penguins organization. This isn't to mention the number of players brought in last season that already are playing elsewhere.
Though much has changed, some things continue to remain the same. The team remains a bit tilted on the ice in terms of depth, but now in favor of the forwards instead of the defensemen. Star wingers continue to take their turn playing with Crosby and Malkin, except now it's Kessel and Hornqvist instead of James Neal. And the nucleus of stars is as strong as ever. As with any GM, there are going to be hits and there are going to be misses. Jim Rutherford has been busy, and that is reflected in the rankings of his 9 trades Pittsburgh Penguins GM below:
1. The Phil Kessel Trade
Pittsburgh gets Phil Kessel, Tim Erixon, Tyler Biggs, 2016 2nd round pick, $1.2 million in cap space
Toronto gets Kasperi Kapanen, Scott Harrington, Nick Spaling, 2016 1st round pick, 2016 3rd round pick
Setting any concerns about recency bias aside, the Pittsburgh Penguins nailed this trade in a situation where the Maple Leafs wanted Phil Kessel gone, Kessel's contract allowed only 8 teams for him to be traded without his sign off, and the Penguins the only one of the 8 showing any interest. Given rumors that included players like Olli Maatta, Derrick Pouliot, Rob Scuderi, and Chris Kunitz in the mix, the final result was stunning for how underwhelming it ended up being. That Jim Rutherford and company managed to essentially trade a prospect with NHL potential, a defensive prospect looking to be buried on a modest depth chart, a salary dump, and a 1st round pick for Phil Kessel, cap space, and upgrading their 3rd rounder is nothing short of a coup. Having 2015 top pick Daniel Sprong take Kapanen's place as top offensive prospect and claim a roster spot as an 18 year old rookie is the cherry on top.
2. Dumping Brandon Sutter Pittsburgh gets Nick Bonino, Adam Clendening, 2016 2nd round pick
Vancouver gets Brandon Sutter, 2016 3rd round pick
Brandon Sutter has been a bit of an enigma throughout his Penguins tenure. He would score highlight reel goals that would make you wonder less how he was able to do what he did but more where that talent went the other 95% of the time he was on the ice. He was able to put up respectable goal totals yet fail miserably in nearly every other aspect of the game, something that had led to a number of Pens fans marking their calendar with the date his contract expired.
It's a move that would appear to be spearheaded entirely by the more analytical Associate/Assistant GMs in the Pittsburgh front office, lobbing a grenade over the wall to Canucks GM Jim Benning, a first time GM who is showing an increasing inability to handle the responsibility. Bonino is a capable bottom 6 player, Clendening is a young (23 yo) defenseman who has shown flashes of skill and should help out as a mobile, puck moving defenseman. Just as important as the return, moving Sutter and his contract allowed the Penguins to simultaneously sign free agent Eric Fehr - the player that everyone was hoping Brandon Sutter would be after acquiring him from Carolina.
3. The Ian Cole Trade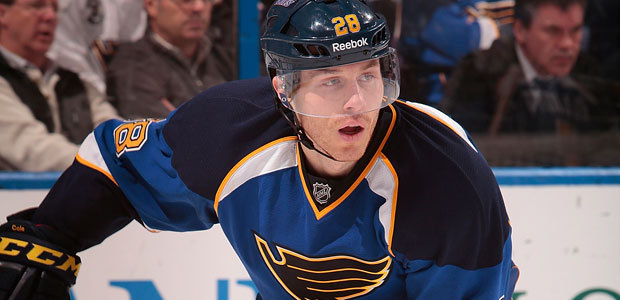 Pittsburgh gets Ian Cole
St. Louis gets Robert Bortuzzo
Ian Cole is likely to top out his career as a solid bottom half of the lineup defender who can do many things well. He's the type of solid, useful defender that contending teams need on their third pairing to fill out their lineup, which instantly makes him an upgrade over Robert Bortuzzo, who was a not very useful defender who typically fills a place on the third pairing of less talented teams. This trade isn't going to wind up as a colossal steal for Pittsburgh, but it quietly adds value to the team, and any positive move a team can make is a good deal.
4. Laying the Klinkhammer Pittsburgh gets Rob Klinkhammer, 2016 5th round pick
Arizona gets Philip Samuelsson
Philip Samuelsson was a victim of the numbers game on the Penguins' blueline to start the 2014-15 season and expendable enough to risk waivers sending him back down to Wilkes-Barre/Scranton. Though they likely tried to find a suitor at the end of camp, it wasn't until December that Pittsburgh was able to strike a deal, where they got a useful bottom 6 player and a low round draft pick for a player that looks destined to be a career AHLer. Though his tenure in Pittsburgh was short lived, Klinkhammer added a possession element to a Pittsburgh 4th line that was in dire need of anyone who could keep the puck out of their own zone.
5. Dumping Zach Sill Pittsburgh gets Daniel Winnik
Toronto gets Zach Sill, 2015 4th round pick, 2016 2nd round pick
Zach Sill made the Penguins roster out of camp for the 2014-15 season and quickly asserted himself as the go-to whipping boy on a team that already iced Rob Scuderi. More impressively he managed to more or less keep his spot in the lineup while keeping
anyone with a pulse
better options in street clothes. The deal for Winnik was a good trade made with horrible timing. Already down a 1st round draft pick, the Penguins forfeited a 2nd round pick for a rental in a season where they were currently neck and neck with several other contenders. All in all, it was a move that essentially ended up as a wash in the end and did allow the team to stop icing Sill, a move the coaching staff seemed to be unwilling to do on their own.
6. The David Perron Trade
Pittsburgh gets David Perron
Edmonton gets Rob Klinkhammer, 2015 1st round pick
Pittsburgh paid a big price to get David Perron as early in the season as they did instead of waiting for the trade deadline, and after a fast start with the Penguins Perron is still trying to prove he was worth the cost. After 13 points in his first 16 games with the Pens, Perron has just 13 points in 42 regular season games since despite seeing much of his ice time in the top 6. He's found himself on Evgeni Malkin's LW as of late and does have 4 points in his last 7 games played, but as an UFA at the end of the season he needs to prove to Pittsburgh, and other potential suitors, that he's worth a new contract.
7. Goc for Lapierre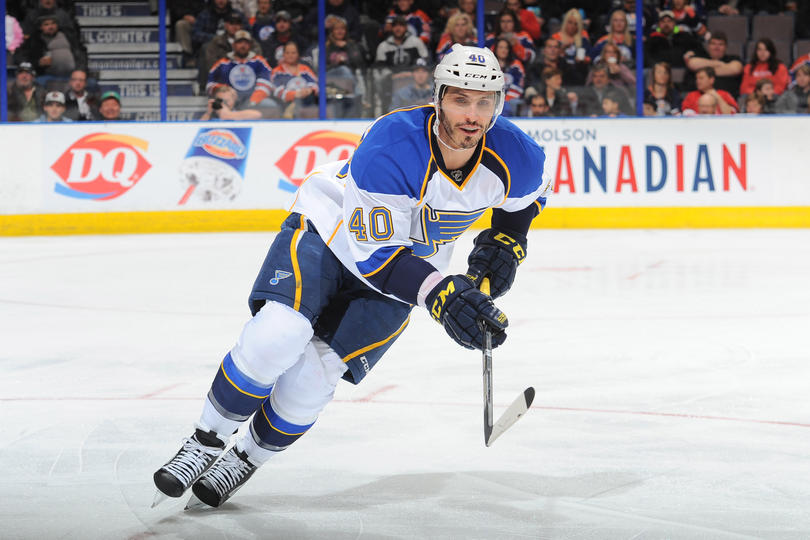 Pittsburgh gets Maxim Lapierre
St. Louis gets Marcel Goc
The relatively minor nature of the trade keeps it from falling further down the list, as the Penguins ultimately sent away a struggling 4C who had a history of doing better when he wasn't burdened with Craig Adams and Zach Sill for a 4C who had a history of being bad regardless. The biggest issue of the trade was the mindset, as the team was willing to trade a potentially useful player for toughness, grit, and the other nonsense Jim Rutherford made a point of emphasis last season before seeing it quietly walked back in the offseason. Both players are currently out of the league, and it proved to be nothing more than a misguided and futile attempt at jump starting the 4th line.
8. The James Neal Trade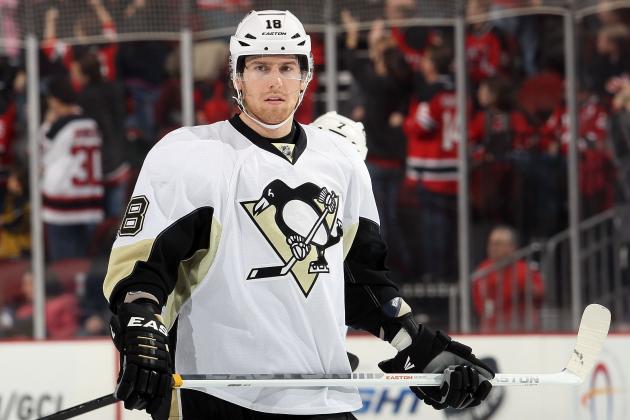 Pittsburgh gets Patric Hornqvist, Nick Spaling
Nashville gets James Neal
Rutherford's first big move as Pittsburgh GM was a draft day shocker. Given the rushed and bungled nature of the deal, it would seem that Rutherford had marching orders to move Neal, a player who had been problematic mostly behind closed doors, and not overly concern himself about the return. In a rarity, the draft day trade featured no draft picks, and Rutherford brought back a solid player in Patric Hornqvist who embodied the grit and toughness the team was actively seeking at the time and the player one would assume Rutherford would be drawn to like a moth to a flame - Nick Spaling, whose traditional numbers belied his actual value and was in need of a new contract at the time. It's no surprise the team dumped him the first chance they got as more talented bottom 6 options are a dime a dozen in the league today.
With the Calgary Flames publicly lambasting the inability to further explore a Neal trade before the deal was made, and other teams likely feeling the same privately, it looks to have been a tremendous rush for Rutherford to squander so much value. Hornqvist has been up and down in his tenure in Pittsburgh and currently finds himself down after a demotion to the 3rd line, but more importantly he is a RW on a team stacked with RWs and in desperate need of LWs. Neal's ability to play both wings and put the puck in the net would have been a much needed addition to today's lineup.
9. Putting Simon Despres Out of His Misery
Pittsburgh gets Ben Lovejoy
Anaheim gets Simon Despres
When you publicly state shortly after the trade that it's one you expect to lose with time, there's often little doubt to how bad of a deal you made. Through two regimes Simon Despres constantly had to fight upstream to get credit within the organization and, in what's becoming a theme, the front office absolutely squandered the value of a big, young defenseman who could skate and had some puck skills. Those types of players need to bring back more than Ben Lovejoy to make any trade worth it, and Bob Murray must have been besides himself when he heard Rutherford agree to the deal. It's the type of trade the presumed Stanley Cup favorite might make to put themselves over the top, and the Penguins were nowhere close to being on that level. Especially given who the team was expecting to lose in free agency, the decision to trade a young, cost-controlled defender with talent for someone Cam Fowler was holding up like a puppet might never be adequately explained and will remain a strong contender for the worst move this regime makes regardless of how the rest of their tenure plays out.