This is an open letter to Patrick Burke and Damian Echevarrieta, the President and Vice President of NHL Player Safety. This is from the heart of, yes, a Penguins fan. Above all this is from the heart of a hockey fan. And this is calling bullshit on a one game suspension to Brandon Dubinsky.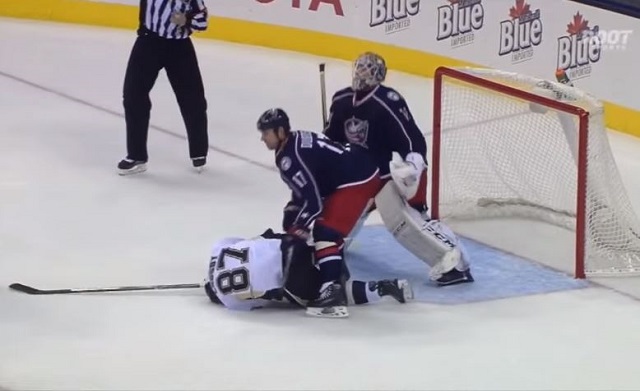 Dear Damian and Patrick,
Let me tell you about me. My name is Nicholas Case. I'm a hockey fan born in Pittsburgh, PA. As such I'm a Penguins fan. I'm also a hockey player (weekend warrior) and former employee for two hockey teams (intern of the Pittsburgh Penguins and Director of Game Day Operations for the ECHL's South Carolina Stingrays). I'm a professional sports freelancer. I have viewed this game in every way possible: fan, player, employee. And as such I feel I'm able to tell you as best I can that only suspending Brandon Dubinsky for one pathetic game is utter bullshit.
One thing is constant in any sport, and I know because I've worked just about every sport: you need your stars. Every broadcast shows this. Every single broadcast, from hockey to basketball to soccer and football, begins with a "Players to Watch" segment. Why? To grow identity. To humanize. To give someone something to pay attention to.
If you go back since Sidney Crosby came in to the league, I'd wager most of the time he was the Player to Watch. Why? Because he's your leagues star player. He's your leagues work horse. He, Alex Ovechkin, Jonathan Toews are arguably your most known faces and the biggest hope for getting out of your niche of casual fans that the NHL is currently mired in, and has always been mired in.
If you look to the NBA, they are the same: Steph Curry, Lebron James, and Kevin Durant are their most marketable players. In the NFL it's Tom Brady, Peyton Manning, JJ Watt, and Cam Newton is emerging as the face of the league.
What do these two leagues have in common, other than being more popular than the NHL? They cater to their stars. When Tom Brady and Peyton Manning were having issues the NFL changed their rules to open up the offense to make their stars more prolific, make them shine brighter.
When the NBA saw their stars getting manhandled in the late 80s with the Detroit Piston era style of play, they made rules to protect their stars (even Lebron is handled with what are called "Jordan Rules"). These days the stars get calls that the plugs do not. You see similar with Major League Baseball. Mike Trout and Andrew McCutchen get a bigger strike zone than James Loney.
These sports, all with bigger numbers, fan bases, and popularity than the NHL, have learned that protecting their stars is paramount. Catering to their stars is what it takes to have the best possible product, to be successful and advance in this modern age.
Not the NHL.
Sidney Crosby is frequently labeled as the "Player to Watch" while Brandon Dubinsky is, at best, given casual mention as a throw away pre-game. And yet today's ruling, of a one game suspension for Dubinsky cross checking the back of Sidney Crosby's neck (all the while breaking his stick on Crosby) puts the lesser player above the face of your league.
Your ruling today is that of allowing the Seattle Mariners Taijuan Walker to hit Bryce Harper in the helmet with a fastball to zero discipline. It's equal to letting the Houston Texans Whitney Mercilus deliver a late hit to the knees of Drew Brees with no reaction. It's consummate to the New Orleans Pelicans Ryan Andersen sucker punch Blake Griffon under the net and be allowed to continue to play.
In each of these leagues, these lesser players would be punished and punished hard. They would have severe discipline rendered upon them. There would be several game suspensions and possible monetary punishment.
In your league, however, Dubinsky is rewarded for a vicious cross check to the back of the head of the league's best player with a small two minute penalty and losing what amounts to the 2015 Honda's worth of salary after a one game suspension. Oh, and the offending player was allowed to stay in the game and assisted on the game winning goal.
The NHL is losing fans, is losing interest, and is losing the race for money because it is catering to the lesser player. The third and fourth line scrappers that are a dime a dozen are treated as a valuable commodity. They are allowed to hack, slash, hook, and impede the players with all of the talent.
No one, aside from family, comes to a game to see Brandon Dubinsky play. People travel for hours at a time to see Sidney Crosby play and score. A one game suspension for needlessly attacking the head of the league's best player, a player with a history of head injuries, is bullshit. A slap on the wrist for violently breaking your stick (which requires a LOT of force) on the neck, as well as ribs and back, of the reason people come to games, is ridiculous.
The NHL is dropping in interest. The NHL is boring. And your actions today are furthering the loss of a fantastic sports supposedly best league.
I used to travel four hours from Charleston, SC to Raleigh, NC to see Sidney Crosby play against the Hurricanes. What I'm greeted with is someone as unknown as Ryan Murphy hacking, slashing, and breaking the NHL's laid out rules to slow him down.
I no longer travel four hours. I no longer subscribe to Center Ice. I no longer care about NHL hockey.
Your ruling today is yet another example of why I don't care.
It's bullshit like this.
Sincerely,
Nicholas Case