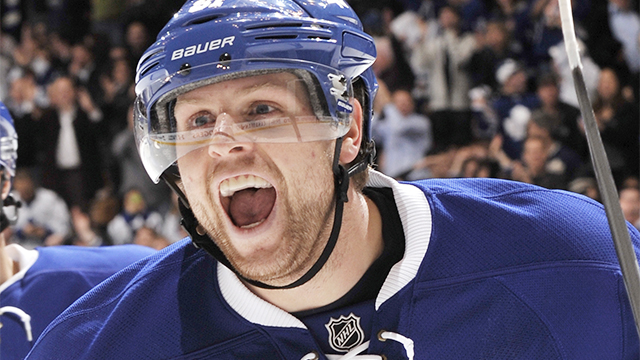 If trading Alex Goligoski for James Neal and Matt Niskanen was the trade that highlighted the best move of Ray Shero's tenure, then the Phil Kessel trade is all but guaranteed to do the same for Jim Rutherford once his time as Pittsburgh's GM has come to an end. That the Penguins were able to pull off a Kessel trade is stunning enough, but the details of the trade make the Pens an instant winner. The team traded Kasperi Kapanen, Scott Harrington, and Nick Spaling along with 1st and 3rd round picks in next year's draft for Phil Kessel, Pittsburgh's 2016 2nd round draft pick, and prospects Tyler Biggs and Tim Erixon, plus Toronto retaining $1.2 million per year for the life of Kessel's contract.
The most astounding part of the Phil Kessel trade is how little of a negative impact it has on the team's future. The 3rd round pick upgrades to a 2nd, and the 1st round pick will hurt the prospect pool but is well worth the cost. Spaling was unnecessary on the 4th line at his $2.2 million AAV cost, Harrington looks poised to peak as a bottom pairing defenseman who could be a 4D for the right team, and Kapanen has to make a team's top six, but with Kessel under contract for 7 more years and just 27 years old Pittsburgh has a guaranteed top six winger, not just the promise of one. If the rumored offer of Derrick Pouliot, a 1st round pick, and salary dumps in Rob Scuderi and Chris Kunitz was true, then Toronto obviously valued the short term flexibility of not taking back onerous contracts than they did Pouliot's potential as a prospect, but that only serves to work further in Pittsburgh's favor. A taker can still potentially be found for the bad deals - there's no getting back a prospect like Pouliot once he's gone.
More importantly, Kessel provides an immediate impact to a team needing more scoring. He's scored 181 goals, 213 assists, and 396 points in 446 career games (0.88 pts/gm) over six seasons in Toronto despite playing for poor teams during that time frame. Either Sidney Crosby or Evgeni Malkin will easily be the most talented line mate he's had, and Kessel will make the team much more difficult to defend against both on the power play and at even strength. While his possession numbers weren't great with Toronto, the Maple Leafs as a team have been abysmal from a possession sense and Kessel posted better numbers relative to his teammates - it shouldn't be an issue playing with the possession drivers Pittsburgh has at center,
Phil Kessel brings a proven scorer with a long track record of success to Pittsburgh on a long term contract at a good AAV given the salary Toronto retained, and he was acquired by a team that didn't have many available assets to swing a deal for a star player. Jim Rutherford has deservedly received criticism for some of his dealings during his first year as Pittsburgh's GM, but make no mistake about it - this move is an unquestioned success that sets Pittsburgh up well both now and for years to come. If the team can get a top four caliber defenseman in free agency, then what looked to be a monumental task retooling the roster for a deep playoff run has suddenly gotten much, much more realistic.