(Photo courtesy of Pittsburghmagazine.com)
Here is the article I never thought I would need to write.
After the Penguins had a lackluster performance against their archrival, the Philadelphia Flyers, and then followed that up by blowing a 3-1 lead to the Red Wings the following night, many fans and media called for major shake-ups. After all, we were six games into the season. The team has six new starters and is currently learning a new system under Mike Johnston that is attempting to reverse all of the bad habits learned over the past few years. So, it seems completely plausible that fans and media thought the season was over.
There were many ludicrous sports takes including: This team is not very good, and this team will miss the playoffs. The best thing I read was that this team needs to trade away Evgeni Malkin. Among the reasons mentioned were that he was lazy, not doing enough for the team, etc. If I thought this was a minority opinion held by a few fans, I would not feel the need to write about it, but since it garnered attention and backing from some of the Pittsburgh media as well, it is time to talk about why trading Evgeni Malkin makes no sense.
(Stats courtesy of ESPN.com)
1. Malkin's production is hard to replace
From the above graph, it is clear to see that Sidney Crosby and Evgeni Malkin led the NHL last season in points per game. In fact, over the past three seasons, Malkin has finished third, fifteenth, and second respectively. Ask any coach or GM and they will tell you the same thing. The reason teams hate to play against the Penguins is because they have Crosby AND Malkin. It enables a coach to roll a 1A and 1B in line combinations. If coaches shutdown Crosby's line, Malkin's line will be right behind him and teams have no relief. Additionally, the Penguins have the option to "load up" with Crosby and Malkin on the same line when offensive production is scarce. No matter what the Penguins would get in return for Malkin, it would not equal his talent and on-ice production.
Pouliot, Dumoulin, Harrington
2. The Penguins should trade from a source of strength and depth
Ever since the era of Crosby and Malkin started in Pittsburgh ten years ago, forward depth has been an issue. Specifically, top-six forwards have been a particular concern. Trading Malkin makes no sense because the Penguins do not have a ton of talent or depth in the center or wing position. Sure, the team would most likely secure two playable pieces now and a draft pick for the future, but as I mentioned above, those two players will not equal his production. Waiting in the wings to come up from the Baby Penguins are players like Jayson Megna, Nick Drazenovic, Andrew Ebbett, Adam Payerl, or Pierre-Luc Letourneau-Leblond. The only player I like the prospects of long-term is Jayson Megna, but that is a very underwhelming list. Does anyone really think an Andrew Ebbett or Nick Drazenovic would step up in a center position to help fill a gap left by Geno's departure? No.
It makes much more sense for Rutherford to look at trading away defensemen to help bring wingers and draft picks to Pittsburgh. I posted Scott Harrington, Brian Dumoulin, and Derrick Pouliot's photos above. The Penguins also waived Philip Samuelsson in the preseason because they have so much depth. He is a quality young prospect that cleared waivers and remains in the system. The point is that the team can afford to lose one or two of these defensemen to gain valuable pieces. This makes much more sense short term and long term for the franchise.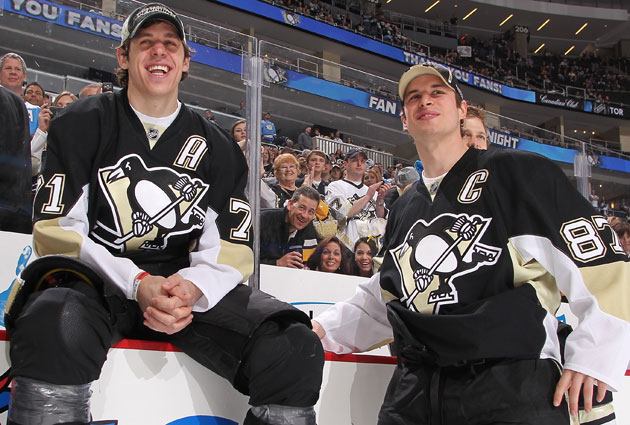 (Photo courtesy of CBSSports.com)
3. It doesn't make sense unless you are deciding to rebuild
The most important reason why trading Malkin makes no sense currently -- the Penguins have Sidney Crosby. When the Penguins have a generational player like Crosby on the team, the Penguins need to focus on winning as much as possible while he is in his prime. Ray Shero may have taken that last statement to the nth degree, but he had the right idea. Rutherford's job is to surround Crosby with as much talent as possible to go after Stanley Cups in the present. This is the third time I am saying it in the same article, but it is that important -- nothing the Penguins would get back in return for Malkin makes the present better for the Penguins.
Simply put, this is a deal a team that is rebuilding makes. The Penguins are far from rebuilding. They may have decided refocusing was necessary this offseason with a new front office and new coaching staff, but the core of this team is still good enough to win a cup. It is good enough to win a cup for the next 5-6 years because Crosby and Malkin are both locked into their contracts. Under no circumstances does a GM disrupt that.
(Photo courtesy of NBCSports.com)
I don't want to recycle a popular Aaron Rodgers saying from this NFL season, but I am going to do it anyway. My message to the fans and media in Pittsburgh is to R-E-L-A-X.
I know that everyone would like the team to be 7-0-0 right now, and I am sure the team would like that as well. I also understand the way the Penguins lost to the Stars and Red Wings is infuriating because they essentially blew the game in the final five minutes after playing so well.
As Dejan Kovacevic mentioned recently, the breakdowns we are seeing are bad habits left from the past regime. All things will not be fixed overnight. This team will make the postseason, and then all of the judging will be justified. Until then, just sit back and enjoy the season, and enjoy watching one of the best players in the business today because Evgeni Malkin is not going anywhere nor should he.