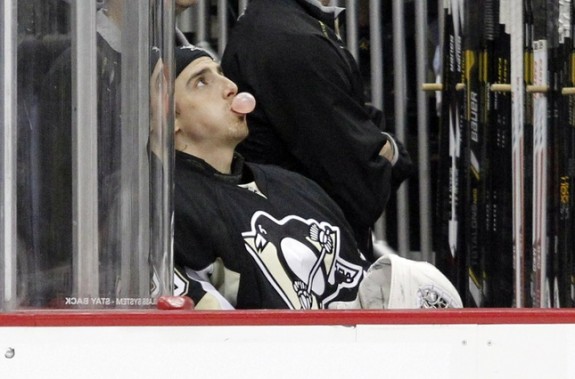 The Pittsburgh Penguins have had at least a three-day break in between games for the second time of the season, and it's only October. Thank God for Pens' general manager Jim Rutherford, who gave us all a newsworthy quote about goaltender Marc-Andre Fleury's future.
Rutherford told the media "As long as I'm the GM, he'll be our goalie" and "My plan is to re-sign him when the time is right. When that is, I don't know, if it's during the year or after the year, but I do want to re-sign him. I believe in him."
Rob Rossi, of the Tribune-Review, wrote a column about Rutherford wanting to keep Fleury in Pittsburgh long-term, and it certainly looks like that's where we are headed. "He's been and he will be in the future a key member of this team," Rutherford told Rossi.
Just four games into the season, this really seems like an odd time for Rutherford and the Pens' front-office to say anything about Fleury's contract, especially considering that Rutherford said that he was in no hurry to sign Fleury to an extension to just a few months ago. Fleury's contract expires after this season. Apparently, Rutherford, Fleury, and Fleury's agent, as well as the rest of the team are all in favor of Fleury continuing his career in Pittsburgh after this season. I do not really mind that, however...
I, for one, would like to see the Penguins look for cheaper goaltending down the road. I know that that is not what most Pens' fans want to hear. Fleury is a really likable guy and has been the starting goaltender on two Pens' teams that went to the Stanley Cup Finals, winning one of them. Personally, Fleury is one of my favorite athletes in Pittsburgh. He is a really nice guy, has a great personality, and has helped the Penguins win a lot of games. In fact, Fleury has more playoff wins than any other active goalie in the NHL, and will have over 300 career wins before the All-Star break in all likelihood. Despite any of his flaws, you do not win all of those games by being a terrible goalie.
That said, I do not think the Penguins need to pay Fleury $5 million-per-year or more to win another Cup. In fact, based on what I have seen, I think the Pens could use some of that money to bolster their forward depth by settling for cheaper goaltending. For those that will dismiss this logic, by saying "Who else are you going to get?, remember that the Pens went out and got Thomas Greiss to be a backup, a guy that many believe could be a starting goalie in this league.
graph via Ryan Wilson from Hockeybuzz.com
Also, the Penguins have not gotten past the second-round of the playoffs with Fleury in net a single time since they won the Stanley Cup in 2009. In fact, since that Cup run, Fleury is 21-22 in the playoffs and has had a save percentage below .900%. Along with those horrendous number were some of the most embarrassing goals allowed I have ever seen. This is particularly true of the goals that he gave up against the New York Islanders in the first round of the 2012-2013 playoffs. Those goals resulted in Fleury being pulled for Tomas Vokoun, who then led the Penguins to the Eastern Conference finals.
For those that say "It's not always Fleury's fault", Vokoun played in front of the same team and got them farther than Fleury did in the last five seasons.
Even in the regular season, Fleury has not been a "top-tier" goalie. In fact, 31 goalies played over 2500 minutes in the last two seasons, Fleury ranked 20th in even-strength save percentage.
I am sure that I will hear that "It's not all Fleury's fault" and "These stats are too small of a sample size". Our friends over at The Pensblog and Pensburgh both did studies about Fleury and how his backups have outplayed him, as well as how Fleury compares against the league average.
The last argument I will hear is "Who are you going to replace Fleury with?" Well, being that Fleury's numbers have been average-to-below-average over the years, I'm not sure replacing Fleury would be this impossible mission that people make it out to be.
The Chicago Blackhawks have won two Stanley Cups in the last five seasons with two different goalies, neither of which would be considered among the league's best.
The Philadelphia Flyers made it further than the Penguins have in the last five seasons with Michael Leighton in net and he's not even in the NHL anymore.
My theory is that the Penguins do not need a big-name or a pricey goaltender to win a Cup, especially if they bulk up the rest of their roster. However, I fully believe that Rutherford and the Penguins will re-sign Fleury. After all, Rutherford is the guy that signed Cam Ward to a gigantic contract largely because Ward played well in the playoffs and won a Stanley Cup. Rutherford gave Ward a six-year deal with a $6.3 million-per-year cap hit and it crippled the Hurricanes, mostly because Ward hasn't been very good. Note that Ward's numbers are very similar to Fleury's.
Fleury is what he is. Fleury is great some nights, average most nights, and can be downright pathetic in certain situations, most notably the postseason. Fleury's playoff meltdowns were so bad that they got him a sports psychologist.
For what it's worth, Fleury did make an improvement in last year's playoffs, going 7-6 as a starter, and even posted a .915 save percentage. If Fleury has a good regular season and can play that well or better in the playoffs again, there will not be any doubt about an extension.
As a fan of watching Fleury play, as well as being a fan of the person he is, I hope that for his sake he will have his best year yet, including the playoffs. If not with the Pens, I am confident that a team will give Fleury, who is already making $5 million-per-year, a big contract. Given the Pens' cap troubles, and the chance of Fleury getting a higher cap-hit than he already has, I am just not sure it is the best move for the Penguins.
Either way, Rutherford should definitely wait until after the season is over to make a big decision like this. I question why it was even brought up four games into the season. We have yet to even see how Thomas Greiss looks with the Penguins, which could definitely change a lot of minds if he puts up better numbers than Fleury. I just hope everyone uses actual logic and not just nostalgic memories when they talk about extending Fleury, and that goes for the front-office. Keep in mind that Rutherford was said to be the GM for two-to-three years while he grooms Jason Botterill, Bill Guerin, and/or Tom Fitzgerald to be the next GM. If Fleury is going to get another five or six-year deal, those guys will have to likely sign off on it as well.
Of course, Fleury is very well liked

and

is the longest

-

tenured Penguin, respected and liked by his teammates and most of this fanbase

.

I have a feeling that an extension will be accepted and celebrated by most of them. I am fine with it either way

-

depending on his postseason performance

-

which

could

be the most important one of his career. The question that should be asked is

: D

o you think the Penguins can win another Stanley Cup with Fleury in net?