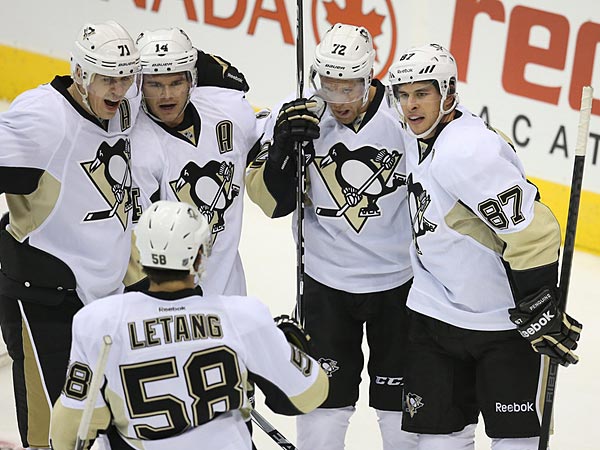 When the lockout ended and the salary cap was implemented prior to the 2005-06 season, the Pittsburgh Penguins were in a very different place than they are right now. They were awful on the ice, having gone 22-46-14; "good" for 58 points and a second to last place finish in the NHL. Their team payroll of $23.1 million was well below the $39 million salary cap and not much higher than the $21.5 million salary floor. Craig Patrick, the architect of the two Stanley Cup winning teams in the early 90s, would last only the first year with the cap before being replaced by Ray Shero.
The team progressed very quickly on the ice, going from 29th in the NHL to the playoffs to the Stanley Cup Finals to winning the Cup over the course of four seasons. Some of the key players for those teams, such as Sidney Crosby, Evgeni Malkin, Jordan Staal, and Marc-Andre Fleury among others, were on ELC or bridge contracts and the long term deals they signed helped push the Penguins up against the ceiling of the salary cap. Those teams, who had youth and depth in spades, saw the depth slowly deteriorate as cap concerns tightened their grip on the Penguins roster, and the youth never returned as the team had poor player development and an over-reliance on veteran players.
Those four players, Crosby, Malkin, Staal, and Fleury; who had entered the 2007-08 season with a combined $11.0 million AAV, saw that number balloon to $26.4 million before even taking the ice to defend their championship. The Penguins had 46.5% of their salary cap comitted to those four players, and they had to watch key contributors leave because of it. Rob Scuderi and Hal Gill were used as a shutdown pairing on the Cup-winning team, but the salary cap crunch prevented Ray Shero from being able to retain either players, a situation he clearly regretted and which unfortunately led to bring back Rob Scuderi 4 years later. The third line of Matt Cooke, Jordan Staal, and Tyler Kennedy; one of the best third lines in the league and a strength of the three center model, all found themselves playing in different cities within a year of each other.
The talent still remained, but the team never quite had the same depth in the following seasons. They had success, but the Stanley Cups were going to the next bunch of teams that send out key contributors who were on cheap ELC or bridge contracts. Chicago, Boston, and Los Angeles didn't have as high of a percentage of their cap tied up in as few players as the Penguins did, they had some key players on cheap deals, and they benefited. The team shook up the front office the past offseason, and Jim Rutherford handed out a series of cheap, one-year contracts.
While the Penguins were facing the cap difficulties of keeping their championship team together, it was the next round of teams who were winning the Stanley Cup with key players on cheap deals. Chicago, Boston, and Los Angeles were reaping the benefits of having key players on below market value deals, and as such they were able to put together stronger and deeper teams. However, while below market value deals are great during the contract, they become a big issue when they expire. If the team chooses to retain the player, the savings they provided are paid back on the next contract. In a salary cap system, a championship window isn't defined just be the age and talent of the players on the ice, but also the timing of their contracts and how difficult retaining or replacing upcoming free agents proves to be. While those three teams have enjoyed great success over the past five years, it's not inconceivable to see them mirroring Pittsburgh's cap issues looking down the road.
Though the Kings have the lowest combined AAV for their top four cap hits for next season of the four teams mentioned, they do have a lot of big contracts on the books. Anze Kopitar, Dustin Brown, Mike Richards, Jeff Carter, Marian Gaborik, Drew Doughty, Slava Voynov, Jake Muzzin, and Jonathan Quick are combining for a $45.5 million AAV, with all of those players except Kopitar signed through at least the 2018-19 season. While it's an envious position to be in now, fortunes can change quickly in the NHL, and contracts that once looked like good value can quickly turn into overpaid albatrosses. Of course, if those players collectively earn their $49.5 million in cap hits the Kings are going to be in a good position regardless.
Though the Kings haven't had to make any cap-related deals yet, they do have a couple key players coming up on free agency. Justin Williams has been a key contributor to the Kings' two Stanley Cup championships, scoring 40 points during 46 games those two postseasons and winning the Conn Smythe in 2014. Jarret Stoll is a solid bottom six player who has been a key part of LA's penalty kill. Both are UFAs after the 2014-15 season, and given their championship experience, and Williams' clutch reputation, it's likely that at least one, if not both, will cash in and be playing elsewhere in 2015-16.
Of course, Anze Kopitar's next contract will be the main issue, as he's due to become an UFA following the 2015-16 season and is in line for a big raise on the $6.8 million AAV he currently carries. With the new contract rules coming out of the second lockout, it's not inconceivable to believe that Kopitar could be in line to get $10 million+ on his next deal. The Kings have a good core locked up for a decent term, but it'll be a costly one and likely will impact their ability to maintain depth.
Chicago Blackhawks
Of the four, the Blackhawks seem most likely to follow the same path the Penguins took after winning the Stanley Cup in 2009. Jonathan Toews and Patrick Kane have signed monster contract extensions for a total of $21 million AAV. They needed to trade Nick Leddy away before this season just to get under the salary cap, and they already have $64 million under contract for next season for just 14 players. Brandon Saad is going to be a restricted free agent after this season and will be getting a good sized raise on his $764k cap hit even if he signs a bridge contract. Andrew Shaw will be a restricted free agent after the 2015-16 season. Jeremey Morin and Marcus Kruger will be RFAs over the next couple seasons as well.
The Blackhawks are staring down a very tight salary cap situation and only have three defensemen under contract for next year. Patrick Sharp has been rumored to be a trade possibility for years, and he might need to be shipped out of town just so the team can make sacrifices elsewhere to get cap compliant. Like the Penguins after 2009, keeping the core together is going to be costly, and even with the depth in their system the Blackhawks are going to have a difficult time.
Like the Blackhawks, the Bruins were also forced to trade a defenseman prior to the start of the season when they sent Johnny Boychuk to the Islanders just to become cap compliant. Boychuk was the team's third defenseman last season, and in an uncapped world he'd still be on Boston's blueline. Unfortunately for the Bruins, Boychuk is unlikely to be the only cap casualty in the upcoming season. The team was able to get Torey Krug and Reilly Smith to take cheap one year deals as RFAs, but eventually they're going to need to be paid. Those two, as well as Dougie Hamilton, hit restricted free agency after the 2014-15 season, and they're likely to be making considerably more than their collective $3.69 million cap hit this season.
The Bruins have long been strong in their bottom six, but given their tight cap situation it's likely they could see some major attrition as Gregory Campbell and Daniel Paille, two mainstays along their bottom line, will reach unrestricted free agency during the 2015 offseason and Chris Kelly will become an UFA in 2016. For a team that has traded away Phil Kessel and Tyler Seguin as well as lost Jarome Iginla as a cap casualty, the Bruins are likely to finally see their depth severely impacted. Next offseason they'll see four defensemen and virtually all their forwards outside the top six reach restricted or unrestricted free agency, and it's hard not to see them suffering damaging losses.
The Penguins have seen their depth slowly erode since winning the Stanley Cup in 2009, but there's reason to believe the tide is turning when it comes to the team's salary cap situation. Though the $8.7 million cap hits for Crosby and Malkin looked huge when they took effect in 2008-09 and 2009-10, Crosby's grandfathered 12 year, $8.7 million AAV extension and Malkin's well below market value 8 year, $9.5 million extension already look like great value deals. With players like Jonathan Toews and Patrick Kane getting $10.5 million per year, and a guy like Steven Stamkos likely in a position to get $12 million plus, having arguably the two best players in the world locked up for that price for that term will be a big boost to GM Jim Rutherford's efforts.
Pittsburgh's system had been notorious for how little talent it was graduating from its prospect pool, but the team is finally in a position to reap the benefits of Ray Shero's drafting strategy. Olli Maatta and Simon Despres are already in the lineup on cheap contracts, Scott Harrington is currently on the NHL team, although likely to return to Wilkes-Barre/Scranton when Bortuzzo comes back from injury, and Brian Dumoulin and Derrick Pouliot are knocking on the door as well. The team will be able to build a potentially very talented blue line for next season at a relatively cheap price. At forward, Kasperi Kapanen and Oskar Sundqvist were making noise in training camp pushing for a roster spot, and though both were sent back to Europe it's very possible that they'll both make the team next season on entry level contracts. The team will see two $5 million AAV deals expire this offseason in Paul Martin and Marc-Andre Fleury, and it's very possible that the Pens are able to replace them with cheaper options.
When looking at the current situation that Los Angeles, Chicago, and Boston find themselves in, it's easy to see similarities to the situation Pittsburgh found themselves in following their Stanley Cup victory. Having young, talented players on cheap contracts is essential to having success in today's NHL, but the same thing that makes those players so valuable is what makes it so difficult to keep the teams together. Eventually the players on entry level and bridge contracts are going to cash in on their success, and to pay those players it's going to require sacrifices elsewhere. The Penguins experienced that through the early years of the decade, and it's a position that the Kings, Blackhawks, and Bruins find themselves in, to varying extents, today.
In the coming years, it's going to be the teams with their superstars locked up long term, especially at a good price, who are going to benefit, with the teams who still need to re-sign theirs running into difficulties. With salaries beginning to skyrocket, the more reasonable a team can be about its secondary scorers and role players, the better they're going to be. And like it's been from the start, talented young players with cap hits below their true values are going to be instrumental to any team trying to make a serious run at the Stanley Cup. Possibly more than ever, targeting the right players through the draft and
having a good player development program
is going to give teams an edge in a system where dollars can't help a team break from the pack.
The Penguins have largely made it through their salary cap struggles, and today they find themselves with a very fluid roster and several young players ready to take on larger roles. Only Sidney Crosby, Evgeni Malkin, Patric Hornqvist, and Kris Letang are currently signed for just three seasons from now, and given the current salary landscape those contracts all look to be very good value. Jim Rutherford did a very good job on reshaping the roster in the 2014 offseason, and he did so in a way that provides flexibility for following years to come as well. Given the talent that is making its way through the system, and the top end talent already on the roster, it's not inconceivable to see this team make a push back towards being a dominant squad that teams want to model themselves after. Because after all, the Penguins have finished with the first or second most points in the Eastern Conference each of the past 4 seasons, even while being hamstrung with depth issues. The talent has been there, and it's about to get a bigger infusion of cap dollars.