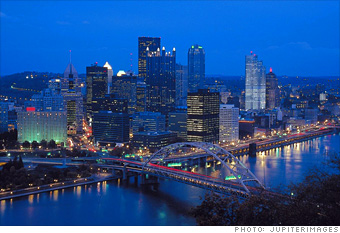 (Photo courtesy of CNN.com)
There are not a whole lot of places that I enjoy being in more than Pittsburgh, Pennsylvania. I grew up in Johnstown, and spent much of my childhood visiting Pittsburgh landmarks and attending various sporting events. I have a real love for the city and the people that encompass it. That is why I am so sad to see an illness spread through the city and much of the people that inhabit it. There seems to be no cure for it. It is spread very easily through person-to-person contact, specifically through speaking to others. What is this mystery illness you ask? SCF. No, not Stanley Cup Final, which uses the same acronym, but rather Spoiled City Fanbase.
(Photo courtesy of Sports Illustrated.com)
I was eight whenever the Pirates were really good in the early 90s. I have fond memories of seeing games at Three Rivers and watching Van Slyke, Bonilla, Bonds, Drabek, etc. Then the city clearly suffered with one of the worst baseball teams and franchises for the next 20+ seasons. They finally broke out last year and it was pure magic. PNC Park is one of the most beautiful ballparks in the country. To finally be able to see it full is certainly a sight to see, and it is something that should happen with regularity. Nothing will be able to beat that National League wildcard game against the Reds last season. The park was electric. The fans, dressed in pure black, made one horrifying scene for the opposition. Who can forget C-U-E-T-O being slowly screamed by the sold out crowd? This season? After a lackluster start to this season with the Pirates starting 16-21, many fans have called for Nutting's job. Some have said that Huntingdon was not aggressive enough in the offseason. A game in which McCutchen went 2-3 but flied out in the ninth inning brought on the "Cutch is not clutch" talk. It is sad.
(Photo courtesy of Sports Illustrated.com)
In 2005 I was just finishing up college. After the Steelers went 16-2 in Roethlisberger's rookie season, the Steelers were having an OK season in 2005 but looked like they would miss the playoffs. They then ran off four straight wins to make the playoffs, and eventually won their next four as well to win their first Super Bowl in 26 years. That night I took to the streets of State College to party with the rest of the Steelers fans in the area. We ran through the streets. We celebrated at the local bars together. It was like we were a bunch of old friends seeing each other for the first time in a number of years. Similar celebrations happened all through the city of Pittsburgh. Then three years later the Steelers won one for the other thumb. Since then, the Steelers have missed the playoffs three of the last five years and had a loss to the Packers in Super Bowl XLV. You can regularly find folks complaining about Big Ben trying to do too much, Mike Tomlin losing his team and not knowing how to win the big game against the team like the Patriots, or perhaps saying that Dick LeBeau's defense has been passed by today's game of football. It is embarrassing.
(Photo courtesy of the Pittsburgh Post-Gazette)
That brings me to our beloved Penguins. After back-to-back Stanley Cups in '91 and '92, the Penguins toiled through the next 12 or 13 years with little success. A few playoff appearances and one Eastern Conference Final appearance was a disappointment to a franchise with star players. It saw the team go through two bankruptcies before being saved by Lemieux. Finally in 2005 Sidney Crosby came to the Pens. The following season Evgeni Malkin came to Pittsburgh. The city, the team, and the arena were revitalized. There was still the issue of money, and the team looked very likely to be relocated to an area in Canada, or perhaps Kansas City. Persistence paid off, however, and in March of 2007, Lemieux made a formal announcement of a new arena deal and that the team would be staying in Pittsburgh. The upstart Pens lost early in the playoffs that season before making the Stanley Cup Final in 2008, and ultimately winning in 2009. Since then the team has had excitement and tribulations. Mainly regular season excitement with a lot of tribulations in the postseason and on the injury front. After going up on the Rangers 3-1 in the second round, the series is now tied 3-3 with a pivotal game 7 tomorrow night in Pittsburgh. After the loss last night, many fans were calling for Bylsma to be fired. Others when placing blame, said don't forget this team was put together by Shero. Also, where has our captain been? How can you be the league's best player when you aren't even the team's best player? Many called for Crosby to be benched earlier in these playoffs. Others have said that Fleury is a bust and is unreliable. It's sad and embarrassing.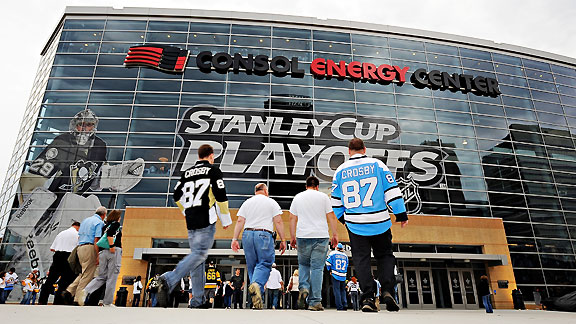 (Photo courtesy of ESPN.com)
Look, I am not trying to say things are perfect. As a fan, you can look at every team in Pittsburgh and wish for more. You can sit during every game and be a pessimist. You can question every decision. Where is the fun in that? Sometimes things need to be said and it is your right as a fan to say those things. But if you are just looking for something to be wrong and the next person to blame, why watch? Sometimes we need to remember what it was like to be a kid and watch these events. Take in the moment. Whatever happens, good or bad, take it all in and leave your voice at the Park, Field, or Center. Half of the time the crowd feels like they are sleeping through the games at Consol. Why? Because their team isn't performing, some will say. The team finished second in the Eastern Conference this season with over 500 man games lost due to injury. Overall, they have performed. They just have not performed to the expectations set by the fans. That is, they have not won a cup every year. I do not know what will happen tomorrow night, but I do think the Pens find a way to win and advance. The only thing I can ask from all of you is to get your SCF shots before the game to stave off the Spoiled City Fanbase Syndrome and cheer on your team for possibly one last time this season. Look at the bright side though, if the team loses tomorrow night, you will have three months to be miserable before you can talk about how miserable next season will be.