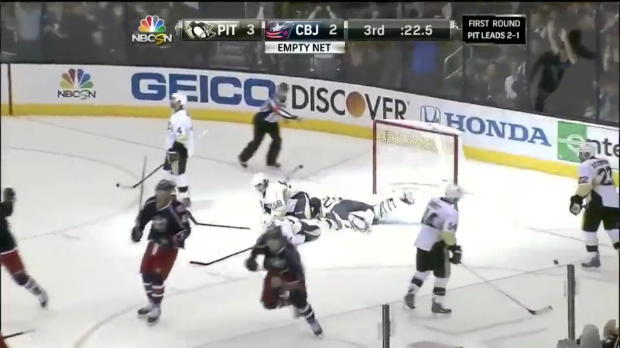 (Photo courtesy of the sportingnews.com)
For 59 minutes and 38 seconds, Marc-Andre Fleury was playing one of the best playoff games of his career. After misplaying the puck on an ill-advised play behind the net, his entire fortune changed. He proceeded to let in a gimme shot by Nick Foligno and just like that the series was tied 2-2. For fans, it is a tough pill to swallow because the Pens were 22 seconds away from having a strangle hold on the series. The easy thing to do is to blame Fleury and call for Zatkoff, Vokoun, Hartzell, anyone but 29. As horrendous as those two goals were, if the Pens had won last night, it would have simply further masked the deeper issues with this team.
Time to go to some numbers to see how bad it has been for the Penguins:
Take a look at the above photo and see the Pens leading goal scorers this postseason. Good for Niskanen, Gibbons, Jokinen, and Sutter. I am happy for them, really. Now proceed the whole way down the page to find Sidney Crosby, Evgeni Malkin, and Kris Letang. All have been shut out this series. To beat a dead horse, that is eight playoff games in a row Letang and Malkin have not scored, and nine playoff games Sidney Crosby has not scored.
Here is the same chart organized by +/-. Again, good for players like Paul Martin and Brooks Orpik... I am still really happy for them. Now, make your way the whole way down the chart to find Sidney Crosby, Kris Letang, and Chris Kunitz. I don't know how to make this more simple than I already have... the Pens may be tied 2-2 in this series, but they have been a COLOSSAL failure to this point. The 'team leaders' have managed to be less productive than the fans sitting outside of CONSOL watching on the big screen. Short of one goal from Chris Kunitz last night, it has been a waste of almost $25 million so far in this series. Throw James Neal in there, who has been largely absent as well, and we are at $30 million.
Ray Shero has paid $30 million for 2 goals, 9 assists, and a -11 rating... let that sink in.
Now that I have swayed you that it isn't Marc-Andre Fleury's fault for the entire series. Let's turn our focus to last night.
I would like you to focus on the CF% column. As you probably know, that is the Corsi for % for the game last night as a whole. Once again, Corsi is a great way to measure time of possession, especially offensively, that leads to scoring chances, which leads to goals. The Columbus Blue Jackets Corsi as a team was
61.8%!
They almost out-possessed the Penguins 2-to-1 over the course of the entire game. That is almost unheard of, especially in the playoffs. Continue over to the SF and SA columns, and you will see the Penguins surrendered 46 shots on goal. Did you know the Penguins have surrendered their two highest shot totals of the season during this series with 45 and 46 shots? Of course, not surprisingly, those were both losses. Maybe also not so surprisingly that both of the games went to overtime, which was largely due to Marc-Andre Fleury.
(Pens Initiative article here)
To be frank with everyone, this team has played with so little heart that it makes me want to not watch them finish this series. To be clear, if you know me at all, I am one of the biggest Penguins fans there is, and I am seriously thinking about a personal blackout for Saturday. Is it because we lost 2 games to an inferior opponent? No. Is it because we have been over-matched for much of the series? No. It is because this team is almost unrecognizable to me, and I am having a hard time watching this team, my team, play with so little heart. So, blame Marc-Andre Fleury if you want to because it is easy, but he is one of three or four players who decided to show up and play this series. You all can blame him if you want to, but you all would be wrong.