(Photo courtesy of totalprosports.com)
If you would have told most Pens fans two weeks ago that the Pens secondary scoring and goaltending would be strengths in their first round matchup, many fans may have said the Pens would sweep the Blue Jackets. Most of those fans would have assumed Sidney Crosby and Evgeni Malkin would not be held in check like they have been for much of this series. The good news is that the Pens are up 3-2 in the series with a potential series clinching game tonight in Columbus, and the better news is that is looks like it will only be a matter of time for Sid and Geno to breakout.
Looking at Sid and Geno by the numbers, specifically Corsi, and it is easy to see their value to the team. So far through 5 games, Crosby is first on the team at 67.1% and Malkin is just behind him with 66.7%. Many people may initially jump to the conclusion that much of this is skewed because Sid and Geno spend so much time on the power play unit. Even at 5-on-5 (second photo), however, Crosby is third on the team in Corsi at 60.1% and Malkin is fifth at 57.6%. Their Fenwick percentages (similar to Corsi minus blocked shots) are also the highest on the team. Additionally, Crosby is 17th overall and Malkin in 30th overall in Corsi throughout the playoffs thus far. To make it more clearer, Crosby and Malkin are driving the play while they are on the ice. They have turned their play around from the beginning of the series, and the compete level is there.
Here are a couple of other stats that point to a trend in the positive direction:
-Crosby has 18 total shots so far and Malkin has 14 total shots. A total of 47 players have at least 14 shots through these playoffs, and only eight of them have zero goals thus far.
-As "bad" as they have been, Crosby is tied at 18th in playoff scoring with 5 points and Malkin is tied at 35th with 4 points.
-After games 2 and 3 where Sidney Crosby went 21 of 53 in the faceoff circle (39.6%), he has turned things around the past two games going 24 of 40 (60%). These are leading to more scoring chances and more clears since he is out in pivotal situations (power play, penalty kill in defensive zone).
-Both Crosby and Malkin are below their year average in the faceoff circle. Crosby is 50 of 119 for 50.4%, and Malkin is 23 of 54 for 42.6%. Their season averages were 52.5% for Crosby and 48.8% for Malkin. These numbers normally balance out over the course of a series and playoff season.
-Geno is sacrificing in other ways for the team. He has registered at least one blocked shot in every game except Game 5.
-Crosby and Malkin have been on the ice for 7 goals for during this series. The only two Penguins players with higher totals are Martin with 11 and Niskanen with 9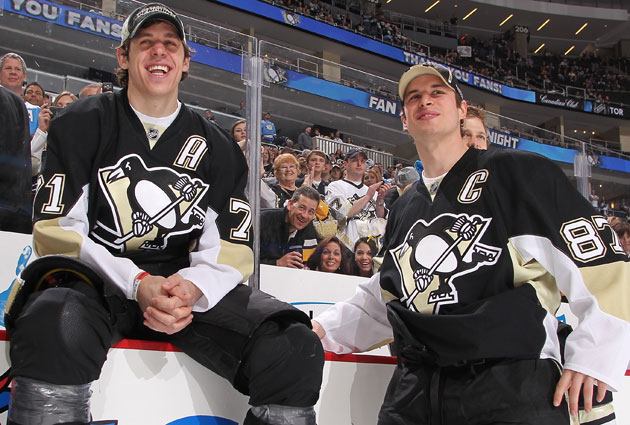 (Photo courtesy of CBSSports.com)
There was enough negativity last week from the Penguins community, and much of it was justified. People need to realize, however, that these kinds of series happen. It is easy to get caught up in the moment and expect and want more from your two biggest stars.
As the above tweet mentions, it is OK to have adversity in the playoffs, and it is even welcomed. Depending on when you have the adversity and how you respond to it, it can even make you stronger going forward. The Penguins were completely embarrassed with the way they lost game 4, and to all of their credits, they came out and dominated game 5 for the first time this series. Sometimes you find out a lot about a team and its leaders when their collective backs are against the wall. If the Pens are lucky enough to escape this series with Columbus without much in the way of contributions from Crosby and Malkin, that will only help the Pens going forward. Other players are gaining confidence and it is only a matter of time until the two best players in the world start producing like the two best players in the world. When that starts to happen, which I think happens sooner than later, look out to Columbus and whoever wins the Flyers/Rangers series.