It is amazing how much can change in nine months, isn't it? This time nine months ago Marc-Andre Fleury was struggling. Tomas Vokoun was leading the Penguins through the playoffs with stellar play. Jeff Zatkoff was in the playoffs in the AHL with the Baby Pens. The playoff stats among the three included: Fleury was 2-2 with a 3.51 GAA and a .883 save percentage, Vokoun was 6-5 with a 2.01 GAA and a .933 save percentage, and Zatkoff was 2-3 with a 5.45 GAA and a .838 save percentage. Yikes...
Those numbers were obviously eye-popping in a bad way, except for Vokoun. That is why many fans were calling for Vokoun to usurp Fleury to be the Penguins' starter at the beginning of season even though Fleury received a vote of confidence from Shero and Bylsma before the season began. Then, in September, we found out that Vokoun would be out at least 3-6 months with a blood clot. It was the second of his career, and his career seemed to be in jeopardy. Management said there was no need to go out and secure a veteran backup. They had their backup in Jeff Zatkoff. To say Pens fans were less than optimistic about the goaltending situation, it would have been an understatement.
(Photo courtesy of the Pittsburgh Post-Gazette)
For good or bad, Jeff Zatkoff reminds me a lot of Fleury in many ways. The main similarity? When looking at his career, he is very consistent in the regular season and struggles in the postseason. His regular season stats in the AHL were 78-65 with a 2.42 GAA and a .917 save percentage. He and teammate Brad Theissen were awarded the Harry "Hap" Holmes Memorial Award at the end of last season. The award is given to the goalie of the team with the fewest amount of goals given up throughout the season (minimum of 25 games played). Once again, as good as the regular season sounds, we now look at his postseason career stats in the AHL. He was 3-8 with a 4.58 GAA and a .865 save percentage. The good news is that he is only 26 years old and he will continue to mature. After a slow start, he has gone 9-2 in his first NHL season and looked very impressive at times. But, for a team that has struggled in recent postseasons and with a window that is slowly closing, do the Penguins have time to roll the dice with Zatkoff this postseason?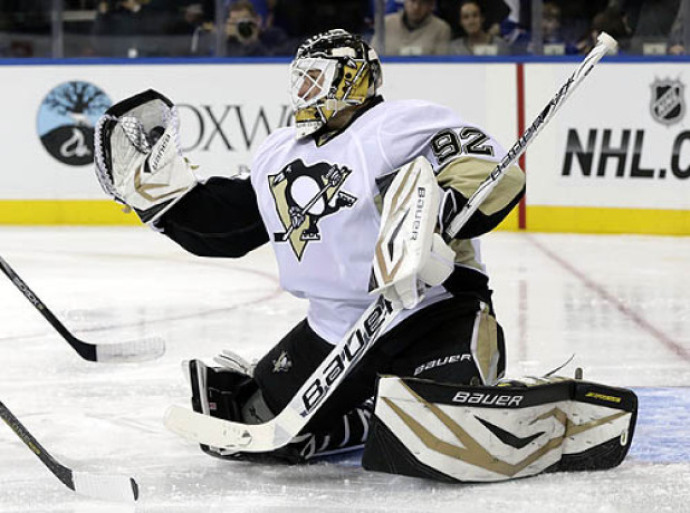 (Photo courtesy of the PittsburghSportingNews.com)
Now for the wild card in this whole equation ...Tomas Vokoun. He clearly has the most experience out of the three goaltenders, and he seems to be the most consistent. His career totals include going 300-288 with a 2.55 GAA and a .917 save percentage. While the wins and losses are not impressive, it is important to remember that Vokoun played for some very mediocre teams with the Predators and Panthers for much of his career. Given that, his career GAA and save percentage are very solid. In the postseason, he actually has much less experience than Fleury. He has only appeared in 22 games going 9-13 with a 2.24 GAA and a .928 save percentage. Once again, the record is nothing to brag about, but his stats are the best of the three. While his career was once in jeopardy, he seems to be on the road to recovery and began skating a couple of weeks ago. Most of Penguins' nation rejoiced, but what does the team do with him?
(Photo courtesy of Grandstandsports.com)
Fleury and Zatkoff have played lights out for much of this season. I don't see that changing after the Olympic break, but this organization does not care about regular season success at this point. They have been cup or bust since Crosby and Malkin joined forces, which is why many Pens fans were happy to see Vokoun skating again. He can be healthy in time for the postseason and once again be the security blanket for Fleury. This is where I part ways with much of Penguins' nation. Tomas Vokoun had a magical season with the Pens last year. He did exactly what Shero wanted and provided rest for Fleury during the regular season, and then he righted the ship in the postseason when Fleury began to falter. However, there is no guarantee
THAT
Tomas Vokoun will ever return. He faced major surgery this off season, and it was the second of his career. He is 37 years old and brings an extra $1.5 million in salary cap hit to the team. The Penguins are going to make it as far as Fleury carries this team. My view is ride-or-die with the Fleury/Zatkoff combination this season and see what happens. If things go south quickly in the postseason again, the organization needs to take a look at their goaltending situation for the future. But, right now, they need to worry about the present. As the old cliché goes, two is company and three is a crowd, and in this particular case, I see Tomas Vokoun as the odd man out.