Welcome back to another "Mad Monday"! This week is a little different from last weeks' edition of Mad Monday, mostly because the Pittsburgh Penguins are out of their funk. They beat the Columbus Blue Jackets in back-to-back games over the weekend by a combined score of 7-2. We saw Deryk Engelland, who was moved to forward, snipe a game-winning goal in the same game that rookie backup goaltender Jeff Zatkoff recorded his first-career shutout. Unreal stuff.
The Pens also won a hard-fought "Rivalry" game against the Boston Bruins, by a score of 3-2. The Pens once again sit on top of the Metropolitan division and the entire eastern conference. Good stuff.
Some not so good stuff went around in the rest of the NHL. Actually some really embarrassing things that made the NHL look absolutely awful and you better bet your ass that I"m mad about it.
First off, I'm mad and even appalled that Colorado Avalanche goaltender Semyon Varlamov was allowed to start in net for the Avalanche Friday night. For those of you not aware, Varlamov was arrested this past week for domestic violence, which included felony kidnapping charges.
Understanding that our country works with giving everyone the "due process" in the justice system, something about a man who was arrested for these serious charges getting to play in an NHL just 48 hours from the time of his arrest stinks if you ask me. Consider that I know many men including myself that were involved in some sort of domestic issue that caused the police to be involved. Myself, I was suspended without pay from my work, which at the time was for one of the largest banks in country. The average joe is either still in jail and/or most likely loses or at least gets suspended until the case is dealt with.
Varlamov should be considered innocent until proven guilty, but there was enough evidence for the cops to detain him and put him in jail. Not to mention that the victim has actually shown public pictures of the alleged physical attack. Plus, this isn't the first time there was a public note of Varlamov his girlfriend having troubles.
The fact remains that, although some hockey fans have said that people should be perceived has "innocent until proven guilty"--- that's just not the way reality is.
But, because Varlamov is an NHL goalie, he gets special treatment. Hey, I get that, I mean most of us put these guys on pedestals, so it's hard to truly complain about special treatment, but playing in the NHL is a not a God-given right. If Patrick Roy (who was also charged with a domestic violence case during his playing days) and Joe Sakic weren't going to suspend Varlamov from the team, at least for the time being, then Gary Bettman and the NHL should have stepped in and done so.
Let the average person have the same charges as Varlamov today, and tell me if they're allowed to go to back to work on Wednesday. Let me know how that turns out. Facts are, Varlamov obviously did something wrong, whether or not all the charges stick we'll wait for the legal process to play out. Since he was able to post bail, which was very low for felony kidnapping charges in my opinion, he was able to start and play in an NHL game and that's just not right and sends a terrible message.
Make sure you think about this certain instance before you hockey-first fans go and talk about the thug behavior in the NHL and NBA. Ben Roethlisberger, quarterback of the Pittsburgh Steelers was accused of sexual assault, was suspended by the league for six games, which eventually was lowered to four games. Unlike Varlamov, Roethlisberger wasn't even arrested and faced zero charges in that accusation. Same thing is happening right now with
Miami Dolphins' guard Richard Icongito,
who is being investigated by the league for player misconduct, which involves harassing and bullying a teammate. The Dolphins suspended their own player, which is the same thing the Colorado Avalanche should have done.
Shame on Bettman and the NHL for not following suit.
Suspending Varlamov doesn't prove he's guilty, it just says that getting arrested with such serious charges is something that you need to be punished for. If you or I get arrested today, most likely we're going to either lose our jobs and/or be suspended or written up. Also, what message does Varlamov being allowed to play send to the female hockey fans?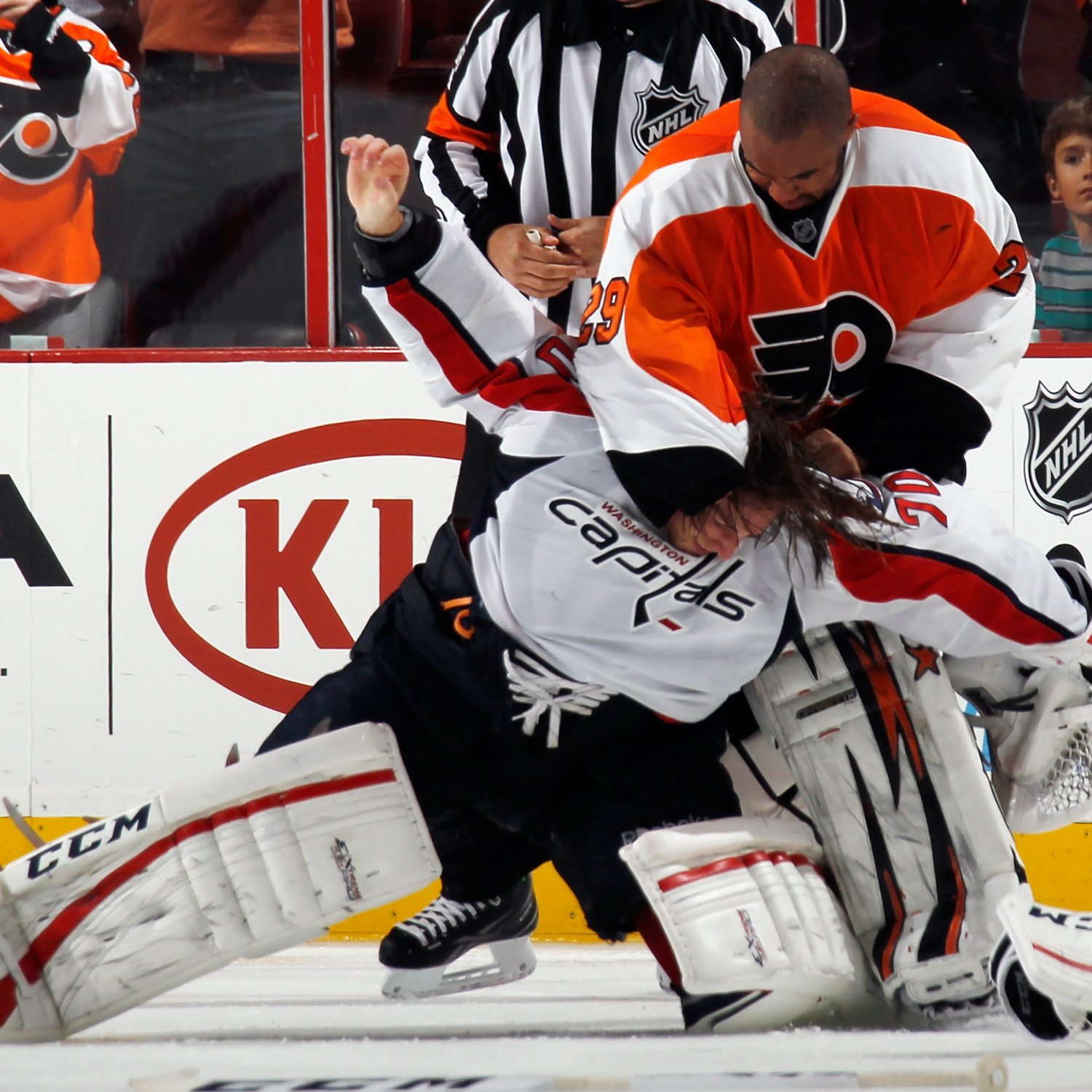 Even more goalies acting like scum to be mad about.
Ray Emery, of the Philadelphia Flyers once again proved that thugs exist in the NHL just like every other sport. Emery, who allowed in four goals on just 15 shots in a 7-0 blowout loss to the Washington Capitals, pretty much assaulted Caps' goalie Braden Holtby.
Holtby didn't want to fight, there was no point, his team beat the Flyers on the scoreboard. But Emery didn't give him a choice, in fact, Emery said after the game that he told Holtby to "Protect himself" and also said that his team "Doesn't take losses like that".
Really? See I thought the point of the game was to win, not assault people and beat them to a bloody pulp. What Emery did wasn't fighting, it was assault. The worst part is the Flyers' entire organization from top to bottom loved it. Hell, one of their credited media members even voted Emery as the third star of the game, despite giving up 4 goals on 15 shots. Just embarassing stuff. Their coach Craig Urebre was nothing but a goon when he played. The Flyers also just acquired a goon in a trade, the incomporable Steve Downie.
And of course the Flyers' fans were loving it. Check out the video of Emery's assault. The announcers and the fans of the Flyers were loving it. You can't even tell that their team was losing 7-0.
I was very pro-fighting until this year. Now I"m sick of it. Fighting is becoming nothing but a chance for goons to punch people in the face. I mean, what did this fight accomplish? The Flyers still got their asses kicked where it truly counts, and most likely the team with the goon mentality will be golfing when the firtst round of the playoffs start.
What Emery did is everything that is wrong with hockey. Won't take my word for it, how about Wheel-of-Fortune host Pat Sajak who tweeted ""Flyers are part of the reason [hockey] remains a niche sport. Shameful tonight." He's absolutely right. People want to want to see big hits that are clean, speed, and skill. They don't want to see this garbage, if they want fighting and goonery they can go watch UFC and WWE.
The Flyers as an organization are a joke right now. Last place in the division, they continue to be a farce, resorting to goonery at all times. The NHL needed to step in and suspend Emery for his violent assault on Holtby. Again, what message does this send to the young aspiring players around the world? That if your team gets their ass kicked fair and square it's ok, just go beat the shit out of them? Again, thanks for being a joke of a franchise always Flyers.

Scott Hartnell said that "Fighting and brawling is part of the Flyer's heritage". So is not winning a Stanley Cup since 1975.

And it's just not the Flyers fault either. The league condones this type of behavior. I heard old-timers like Don Cherry condemn Tomas Hertl for scoring a fancy goal but defend these types of brawls. It should be the other way around. Also, why in the Hell didn't the ref try and stop Emery from beating the shit out of Hotlby? He even waived everyone else off. Unreal.

Whenever you see hockey labeled as a "niche" sport this is why. The NHL needs to drastically punish the players that do things like this. They also need to start punishing teams and franchises. Make teams skate short-handed for an entire period. Hand out hefty fines. Do something to help your sport move into the modern age NHL!