October 3, 2013: The Pittsburgh Penguins hosted the New Jersey Devils and shut them out 3-0.
October 5, 2013: The Pittsburgh Penguins hosted the Buffalo Sabres and blow them out 4-1.
October 8, 2013: The Pittsburgh Penguins hosted the Carolina Hurricanes...similar result.
The rest of the season thus far, save the very next game against Florida, which featured Jeff Zatkoff's NHL goaltending debut, has gone very much exactly like that. The Pens currently sit at 7-1-0 and firmly holding onto the Division lead, 3 points ahead of the 2nd place Carolina Hurricanes with a game in hand.
As has become the
expected
in Pittsburgh, the Pens are scoring at a 3.75 goals per game pace. Only the San Jose Sharks are better 8 games into the season. Offensive capabilities are never in question, but the team is performing well defensively as well. The Penguins are currently 8th in the League in terms of goals allowed per game.
But are we, as fans, jumping to conclusions too soon? Is what we've seen to this point a reliable basis for making our claim for another Eastern Conference Finals appearance? Or better? Honestly, it's difficult to tell.
The combined record of the teams the Pens have faced is 22-39-9. In other words, the teams the Pens have faced have only secured just shy of 38% of the possible points they could have accrued. That's paltry at best. These are teams that the Pens
should
be beating.
As much as I would love to jump on the parade route and do nothing but cheer this team, I can't bring myself to justify bringing out my inner-Homer quite yet.
Seven wins feels nice eight games in. Knowing that we got those wins without the help of Kris Letang, James Neal and, to a lesser degree, Tomas Vokoun is also pretty encouraging. Seeing Sidney Crosby play the way he is, garnering 7 goals and 10 assists so far, is a reminder of what is so special about being a Penguins fan in this era.
Seeing that the Pens committed to Olli Maatta on Saturday
might
be nice, as well. As I stated on
Radio: PI
this past Thursday, I'm not sold yet on whether Maatta should have stayed with the Pens. Later in that same podcast, Rob Rossi of The Trib, gave me even more reason to think that he should have gone back to London for this season in Nick Case's interview with him.
[AUTHOR'S NOTE: If you haven't yet, listen to that interview. Really great stuff and you don't have to miss out on it.]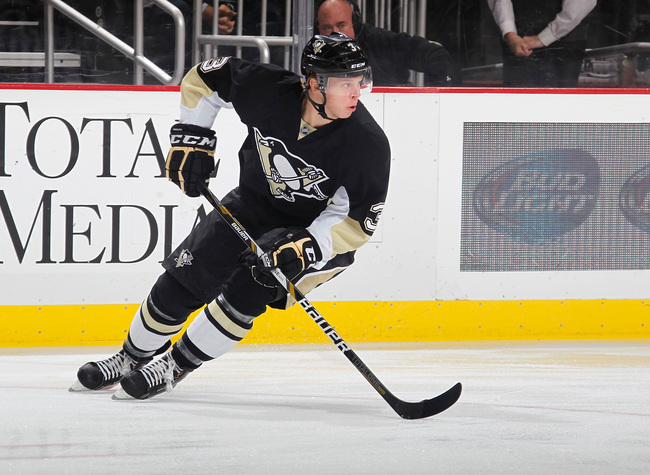 He's the most talented young defenseman we've seen in a long time and will likely be a superstar. How could anybody possibly deny that point?
Still, his youth bothers me. I look at his play and literally say out loud "How can a kid that young do the things that he does?" I convinced my son that every time Number 3 touches the puck, he should call out "Maaaaaaaaattaaaaaaaa!!!!!!!!" So it's definitely not that I'm not a fan of his. I just wonder how long he can keep it going. How long until the "fear" of playing at the highest level leaves him and he drops his guard? How long until his not-fully-grown-yet frame fails him given the wear and tear playing in the National Hockey League subjects players to?
The fact that, as players return from IR, the salary cap will force the Pens to make moves bothers me. The bad thing about this business is that every GM has so much knowledge. Ray Shero does NOT have any kind of "out clause" or informational advantage when it comes to the salary cap. Every other GM knows and will try to exploit the fact that the Pens have that limit staring them in the face. This time, there will be no Neal and Niskanen for Goligoski style trade. Likely, the Pens will lose a defenseman (or two) to the waiver wire this year. Nothing in return.
The fact that when Kris Letang, specifically, returns from IR, the shuffling of defensive pairings will be frenetic bothers me. The pairings we've seen this year have performed solidly. MAF has not seen too many breakdowns in front of him, contributing to his excellent performance early in this season. It is not known how his return will affect the chemistry these units are developing.
The fact that the Penguins have not yet played anybody they should have struggled with, save Vancouver, may not bother me, but it's still in the forefront of my mind.
Some problems are nice to have. Maatta is one of those types of problems. As is now having one of the deepest defensive corps in the NHL. As is currently employing the most dynamic player of this generation in Sidney Crosby. The outstanding play of Marc-Andre Fleury to this point.
Other problems are not so nice. The Salary Cap issue looming on the horizon. The lack of a dependable backup goaltender is a concern. The loss of Matt Cooke with no evident replacement for his combination of playing style and production so far isn't encouraging either.
I'm not saying the Penguins can't or won't win the Metro, because they probably will. I'm just saying we should probably do a brake check on our own expectations for this team and some of its players until we've faced some of the tougher competition that they will face in the near future.
#LetsGoPens