I'd like to introduce a new format for my Monday column here at Pens Initiative called "Mad Monday with Mad Chad". In short, it's basically going to be me ranting about the Pittsburgh Penguins for the good and the bad. So here we go.
What I'm mad about:
Tomas Vokoun's blood clot:
Tomas Vokoun has had one of the unluckiest careers I've seen in the NHL over the past decade. Almost always surrounded by bad teams and for the second time in his career he will miss significant time because of a blood cut.
During his 2005-2006 season, Vokoun missed the entire season due to a blood cut that caused him to be on blood thinners for three months. I spoke to
Paige Lewis
who is a radio host and writer for Florida Panthers' "Panther Parkway" who suffers from a similar condition to Vokoun. I asked her about the symptoms of dealing with this blood disorder and she mentioned that the regular symptoms are hot feeling in your legs, soreness, body parts swollen, shortness of breath, and dizziness.Apparently the Panthers have another player with the same disorder currently playing for them, Tomas Fleischmann, who had a blood clot spread to his lung before. She also mentioned that people with the disorder have to wear special socks when they get on planes for circulation.
Blood clots suck.
So now the Pens are most likely going to be without Vokoun for the entire season or at least most of it. That's not a great thing considering that Vokoun pretty much rescued the Pens during the postseason last year after Marc-Andre Fleury faltered in the playoffs for the fourth straight season. What if Vokoun isn't available at all this season? Surely the Pens can't depend on rookie goaltender Jeff Zatkoff, 26, who has never played in the NHL before to be a reliable backup....Can they?
If the Pens put Vokoun long-term injured reserve in order to relieve themselves of Vokoun's $2 million cap hit. That could help the Pens from making any trades from their already thin roster and could help them get a veteran backup. One guy that comes to mind is John Hedberg who is currently a free-agent.
Hopefully Vokoun will be able to comeback. This may cause the Pens to start and play Fleury more often, which was a problem in the past due to him getting overworked. It especially sucks if Fleury would (knock on wood) get injured or go through a really bad slump. All the best wishes to Vokoun for a speedy recover and a big F*ck you to blood clots.
I'm also mad about Brenden Morrow signing with the St.Louis Blues: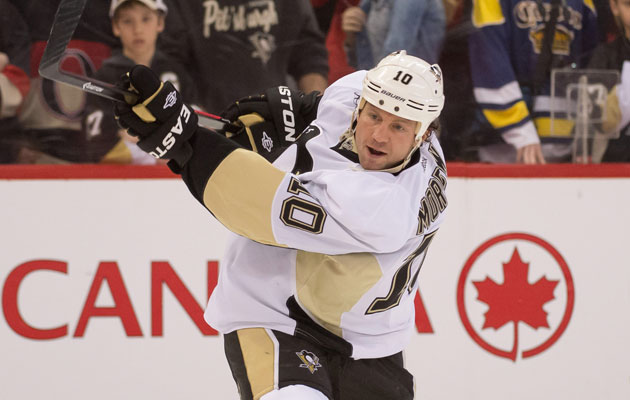 The main reason I'm mad about Brenden Morrow signing with the St. Louis Blues is I really thought he would be a great guy to re-sign for the Pens. The Pens are lacking size and grit on their bottom six forwards right now and Morrow fills both of those voids.
Of course, the Pens have some issues with the salary cap right now, but when you think about the fact that they are paying Tanner Glass $1.1 million to "play hockey this season" and the Blues were able to sign Morrow for just $1.5 million. Not a big difference.
Morrow is a much better player than Glass and also provides some much needed leadership. Although Morrow didn't light it up last year for the Pens, he was effective in a lot of areas, including punking the sh*t out of PK Subban.
For what it's worth, Morrow played with broken kneecaps during the postseason last year and still managed to score two goals and four points playing in a limited role. Morrow is a great pickup for the Blues who are trying to get closer to a Stanley Cup run.
The good news is the Pens may have found a player that can add a little of what Morrow would have in Chuck Kobasew. Kobasew, who the Pens signed to a PTO contract, which is basically a tryout , has looked really good during the preseason. Kobsew is a veteran who has produced in the past and can really add some much needed grit and talent to the bottom six forwards.
I'm also mad about Phil Kessel acting like a douchebag.
All Hell broke loose last night during the preseason game between the Toronto Maple Leafs and the Buffalo Sabers. It all started when goon John Scott instigated a fight with Phil Kessel. I'm against goons like Scott but I am utterly pissed off at the bitch-like whacks that Kessel gave Scott with the stick. Scott tried to fight Kessel and Kessel skated away swinging his stick like a damn baseball bat.
Basically Kessel is a little girl. I can't even imagine what kind of suspension Matt Cooke would get had that've been him instead of Kessel. Maybe a lifetime ban. Kessel needs to get suspended and quite frankly, having a team brawl like this in the preseason makes the sport look bad in my opinion.
The hockey culture in general continues to mock itself and when the sport gets national coverage in America this is what the audience sees most of the time. There is a place for fighting but this isn't it. And what Kessel did was just cowardly.
I am pro fighting but this looks like a damn circus.
This concludes the Mad Monday with me, Chad Nolan aka "Mad Chad". Follow me on Twitter
@MadChad412
and like
Pens Initiative on Facebook
.