Not content to sit around idle until his projected August 1st arbitration date, the Penguins and defender Robert Bortuzzo have reached a deal that seems to make everyone happy.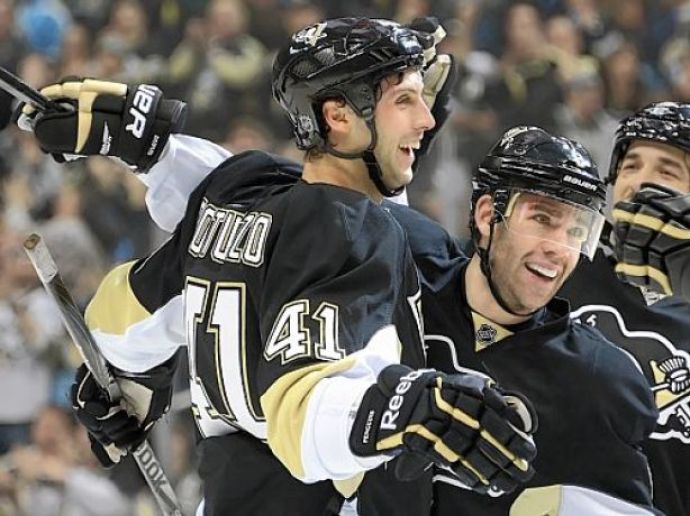 Bortuzzo and Dupuis Celebrate
(Peter Diana/Post Gazette)
The Penguins announced today
the agreement with Bortuzzo to a two year deal worth an average of $600,000 per year. This was a slight pay raise for Bortuzzo, who qualifying offer from the Penguins was $577,500. Both sides are assumed to be happy with their small raise and the addition of the second year.
Bortuzzo appeared in 15 games last year with the Penguins. Two goals and four points were more than most expected from the 6'4", 207 lbs. 24 year old seeing only his second call up in the NHL. He had previously played in six games in the 2011-12 season.
His physical play was an added bonus, registering 24 PIMS in those 15 games in limited playing time, dropping the gloves three times in defense of his team. It's made him a minor fan favorite and necessitated an increase in Bort license plates in the Penguins pro shop.
The signing puts the Penguins just over $1,000,000 over the Salary Cap for the 2013-14 season. The Penguins, or any team, are allowed to exceed the Salary Cap by 10% in the offseason so long as they shed the necessary money to sneak below by season's start.
The Penguins have until Thursday, October 8th, at home against the Devils, to be cap compliant. The likes of Matt Niskanen or Tanner Glass are frequently thought to be those who will be departing the Penguins. Stay with Pens Initiative for more as it develops.