The NHL has, finally, released the 2013-2014 NHL season schedule. With that the Penguins know who they'll be playing and when.
Click for schedule
, click below for highlights.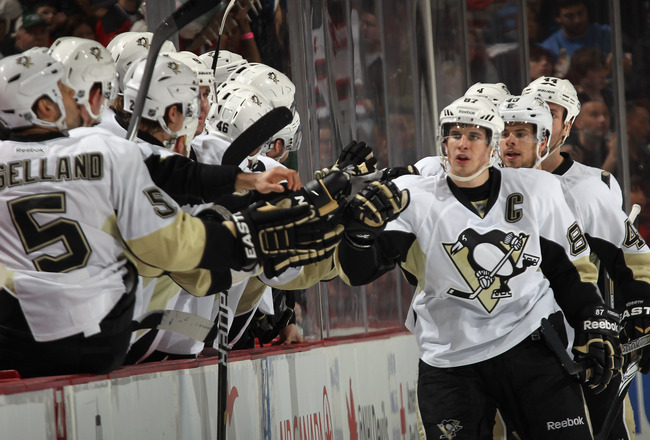 The Penguins will start the season with a three game home stand against the Ilya Kovalchuk-less Devils on Thursday October 8th, the Buffalo Sabres and new division opponent Carolina Hurricanes. They also end the year with a three game home stand against the Detroit Red Wings, Philadelphia Flyers and Ottawa Senators.
As part of re-allignment the Penguins will be a part of the new Metropolitan Division with the Devils, Hurricanes, Washington Capitals, Columbus Blue Jackets, New York Rangers, New York Islanders and Philadelphia Flyers. For more details on re-allignment and the new conferences,
click here
.
The Penguins, and the rest of the NHL, will take a break February 9th through the 25th while the NHL allows its players to attend the Winter Olympics in Sochi for a chance at gold. The Penguins first post-Olympic game will be at home on February 27th against the Montreal Canadiens. The IIHF has released its Men's Hockey schedule for Sochi and it can be found
here
.
Also of note on the schedule will be the Penguins traveling to Chicago to play the Stanley Cup Champion Chicago Blackhawks on Saturday, March 1st at 8pm as part of the Coors Light Stadium Series, also encompassing two games at Yankee Stadium as well as a game at Dodger Stadium.
The outdoor game in Chicago is, surprisingly, not one of 30 games the Penguins will have televised nationally in Canada and the US between the NBC Sports Network, NBC, the NHL Network, RDS, and the CBC with the possibility of more to come. As
Puck the Media's Steve Lepore
states,
the game is currently TBD and will eventually be switched to network TV.
As always stay with PensInitiative.com through the rest of the summer and throughout the 2013-2014 season for updates, news, and views.