The
What's Next series
is part of an ongoing look from the Pens Initiative staff taking a look at the Penguins UFAs, RFAs, and most polarizing personalities heading into the next season. We look at the year that was and the year coming and wonder: What's Next.
What's Next For ..... Pascal Dupuis by @ExcitedBobErrey
You get the feel good stories every once in a while, but not too often, about a guy in sports who finally breaks out well into his career. About the average player who suddenly puts it together and starts playing well above what he has shown before. The utility infielder, the backup quarterback, the third line grinder. A lot of the time it's for a year, sometimes two, that the role player gets his time in the sun, gets his 15 minutes when the perfect set of circumstances comes together and he thrives. You get those guys, and then you get a guy like Pascal Dupuis.
Pascal Dupuis first came to the Pittsburgh Penguins as a 3rd line grinder. He was a throw in from the Marian Hossa trade just months shy of his 29th birthday. Dupuis had set career highs in goals (20), assists (28), and points (48) during his second season and hadn't come close to reaching those totals since. This is a guy who had played for 3 teams the previous year, having already been traded twice then before being traded for a third time within a span of 12 months. He was a journeyman, a guy who was not only a healthy scratch at times during the 2009 playoffs but couldn't manage a single point in the 16 games he did play.
Along the way the story changed. Dupuis went from being the guy who couldn't get on the ice to quite possibly the team's second most important winger behind James Neal. A guy who can skate, kill penalites, and score with the best of them. A guy who was wanted by no one to one who is indispensable to his team, all while playing on a line with the best player in the world.
You might ask what is next for Pascal Dupuis, but that answer is already crystal clear. Pittsburgh is next. Dupuis wants this. Shero wants this. Everyone else in the organization wants Pascal Dupuis back. Pascal Dupuis is nothing if not a family man, and his family has made Pittsburgh home. They love the area and don't want to leave. He's faced this situation before. 2 years ago, coming off 37 and 38 point seasons, Pascal Dupuis signed a 2 year contract worth $3 million. Not $3 million per year, but $3 million total. $1.5 million a year for a guy who easily could have gotten more, and who quickly made those terms look like an absolute steal. He could have gotten more, but he wanted to stay here.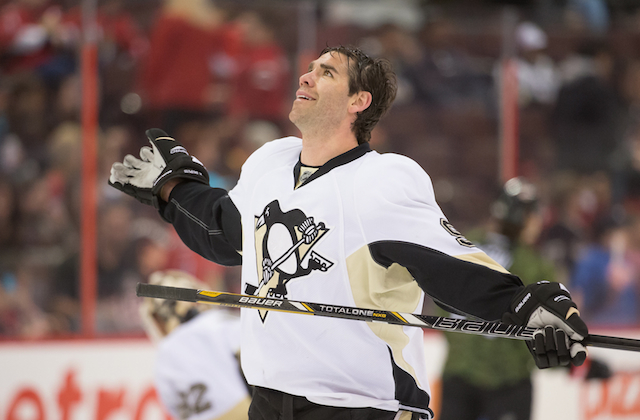 Ray Shero won't be able to lock up Dupuis for $1.5 million per year this time around. He's going to have to pay more, but Dupuis has done more than enough to deserve every single cent that he gets. For a grinder that appeared to have stone hands when he first arrived in Pittsburgh, Dupuis has certainly found the scoring touch as his points per game has increased virtually every season he's been in Pittsburgh (0.39 in 2008-09 to 0.79 this past year). Since signing that last contract extension Pascal Dupuis has finished 59th and 34th in the league in scoring, which is even more remarkable when you take into account his non-existent power play time. Dupuis has finished 10th and 11th in the league in even strength points those two years while averaging 0:23 and 0:48 TOI on the powerplay. To give you a rough idea what Dupuis's points totals might have looked like with power play time, Chris Kunitz, Crosby's other winger, put up 18 and 16 power play points the last two years to 1 and 3 for Dupuis. Those extra points would have put Pascal at 76 points and 51 points, which would be an 87 point pace over 82 games. That's the type of ballpark you could reasonably look at here, and he's managed to put up his best seasons in years where Sidney Crosby has missed significant time.
Pascal Dupuis will be a Pittsburgh Penguins next season; it's almost as simple as just saying it. Everyone involved in the situation knows it, and I believe everyone is fine with the sacrifices that need to be made to make it happen. Dupuis cannot run to the open market and try to find the highest price and ask for Ray Shero to match. That would be a deal breaker, and I don't believe Dupuis has much intention of negotiating with 29 of the 30 teams in the league. As for Shero, there's a good chance that Dupuis asks for a 3rd year while taking a discount on his value, something that Ray Shero has been almost dead set against doing in the past. 3 years would take Dupuis to 37 the next time his contract expires, but given his high level of play and what he means to this team I believe this is a case where he makes an exception. When the dust settles, I expect to see Pascal Dupuis sign a 3 year deal worth around $3-3.5 million per season. 3 years, $10 million sounds like a pretty good bet to me, as does seeing Pascal Dupuis in a Penguins jersey next season.