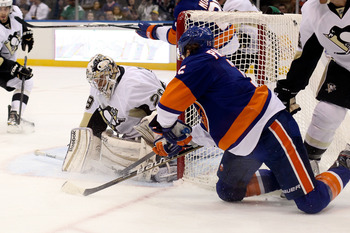 Soft photo: bleacherreport.com
Marc-Andre Fleury is taking a lot of heat right now.
It's easy to dog on him when he's clearly off his game. And, f

rankly, much of it is deserved. Often forgotten by us armchair observers, though, is the fact that, love him or hate him, Number 29 is one of the very best the sport has to offer today.
The position of goaltender requires unreal amounts of conditioning, skill, agility and levels of insanity not found in most human beings. To be a goaltender, you must have the ability to focus without regard to what is happening elsewhere, in the arena or out of it. On a near-nightly basis, you must find a balance between the highs and lows of the emotions that flow throughout a hockey game, season or series.
Because of the lofty expectations that come with the position (and perhaps a little bias), only 33 goaltenders are currently enshrined in the Hockey Hall of Fame. Nine seasons into his career, an argument could be made that, despite his current struggles, Fleury could help add to that number.
Clearly, before MAF would even be eligible for consideration for such an honor, the retired Dominic Hasek will already be enshrined. Possibly Curtis Joseph. Definitely the New Jersey Devils' Martin Brodeur. Although with Brodeur, I can't say that I'm sure he'll ever retire. Or need to. The man just seems ageless.
Instinctively, the first thing people tend to look at when thinking of Hall of Fame candidates is the number of championships a player, or even coach, has won. The HOF, for many people, is heavily results-driven. That's not a good thing, not a bad thing. It's just the way it is.
Dryden - Chill. photo: sikids.com
At this point, Fleury has a tough argument if you look at the cream of the crop among goaltenders. Goalies like Ken Dryden and Jacques Plante winning 6 Cups each sets quite a lofty standard. As optimistic as I would love to be, Fleury will not even come close to sniffing those numbers. This is the "free agency/salary cap era," after all, and no goaltender will compete with those numbers in the foreseeable future.
Realistically, Fleury could win 1 or 2 more Cups in his career. That would give him either 2 or 3. His company in that range, in terms of Hall of Famers, would include players like Gerry Cheevers and Bernie Parent. He would have one more than most recent inductee Ed Belfour, who won one late in his career as a member of the Stars.
He must break you. photo: hhof.com
The reality is that not all Hall of Fame quality are able to win "the Big One." Vladislav Tretiak is the most obvious HoFer that doesn't have a Cup, but since he never set foot in an NHL arena, being part of the Russian juggernaut, he can't really count in this discussion. But Ed Giacomin does. And even Tony Esposito, as great as he was, only hoisted the Cup once.
Wins are easy to use as a benchmark, which is why discussions of this type often boil down to just that, no matter the sport.
Yeah, Fleury's career is far from over. To get a good estimate of where MAF stands - or rather will stand - with regards to career wins when it's all said and done, I had to do a little math.
A Case of the Philadelphia Flyers photo:chud.com
WARNING! IF MATH GIVES YOU A SEVERE CASE OF THE PHILADELPHIA FLYERS, SKIP THIS PARAGRAPH: With a little help from

hhof.com

, the official Hockey Hall of Fame website, I pulled the NHL stats from all members of the Hall and set them equal to 900 games played. To do that, I determined a Win % of their actual games played and multiplied every goaltenders % by 900. Most HoFers didn't play any where near that number of games, but many of the more modern players have. So, 900 seemed like a good number to use.
As it turns out, Marc-Andre's projected 480 wins would only trail 5 current Hall of Famers at the 900 game mark: Patrick Roy, Ken Dryden, Gerry Cheevers, Bill Durnan, and Bouse Hutton. That's pretty elite company.
Shutouts are hard to come by at the NHL-level. So many things have to go right to get them. Your team has to be defensively responsible. The opposing offense can just be unlucky, a little off that night or just plain inept.
Or the player hismelf can just be out-of-his-mind good for 60 minutes. Fleury is on pace for a shutout total in the low-40s, should he play a 900 regular season game career. If he maintains
his present 2.50 GAA pace, he'd be middle of the pack for both stats among Hall of Famers.
In this 2013 Stanley Cup Playoffs season, Marc Andre Fleury has stunk it up thus far. In the Army, we would call his performance "a soup sandwich." Or say that he's been "10 up and 2 down." That's "ate up," for those playing at home. And he's certainly earned his detractors who will read this section with great fervor.
Consistency - I asked

Jack

, my cohost on ToonSports over at the Trending Topics Network and a goalie when he played, what he thought of besides Cups and Wins when thinking of Hall of Fame goalies. One of his answers was "consistency." This is definitely an area that Marc Andre Fleury needs work in. Despite his tendency to perform in streaks, MAF is still widely lauded as one of the premier goaltenders in the league today, if only for his potential.
Teammates - I've heard the argument that the only reason Fleury has succeeded in the NHL to the level that he has is because he's had the opportunity to play with the likes of Sidney Crosby, Evgeni Malkin and a host of other potential HoFers in their own right. To counter this argument, I'd like to call you attention to one Grant Fuhr. If you're not familiar with Grant Fuhr, he was a mostly average to slightly-above-average goaltender that just happened to win 4 Stanley Cups with one of the greatest lineups ever to hit the ice, the Edmonton Oilers of the 1980s. Yeah....the one with Wayne Gretzky. And Jari Kurri. And Mark Messier. And Paul Coffey............
Pollen pads photo: brokencigars.com
Uniqueness - One of the best cases against Fleury being inducted, to this point in his career, is that nothing historically really stands out about him. He can't be considered "the greatest" at any one aspect of his game. He hasn't been an innovator - no new equipment, techniques or rules have come about because of him. If anything you could say the opposite in those regards, given those god-awful, yet kid-friendly yellow pads he sported early in his career. And he hasn't really had enough of those "moments" that will be remembered by future generations. But he does smile a lot.
As of right now, Marc Andre Fleury is not Hall of Fame material. He just doesn't have the stats that may come if his career is long enough. He's probably a Stanley Cup and a Vezina or two away from having the hardware needed as well. He may very well exceed those "benchmark" numbers. Or he may never sniff that level. Truth be told, this piece isn't really about that.
All 33 HoF goaltenders had their ups and their downs. Triumphs. Disappointments. And they all had their detractors. Each of these came and went at different times in their various careers. The main difference today is rooted in the fact that social media allows today's fan to participate in a form of "mob critique." There was never as much feigned certainty of their potential place in the history of the sport as we have today.
In 15 years, we may find that a lot of Marc-Andre Fleury's current critics are right about him. Or we may find those same critics scrambling to get Induction Ceremony tickets. What I do know for certain is that he does have one Stanley Cup ring already and that's enough to buy my patience. For now.