I still remember the night Jarome Iginla got traded to the Pittsburgh Penguins. March 27, 2013 everyone in the league had thought that Iginla was on his way to Boston to play for the Bruins. The reports were all over the place. But then Ray Shero swooped in and saved the day, acquiring Iginla for two prospects and a first round pick. It was basically the same deal that the Bruins had offered, but fortunately for Shero and the Pens Pittsburgh was where Iginla wanted to be.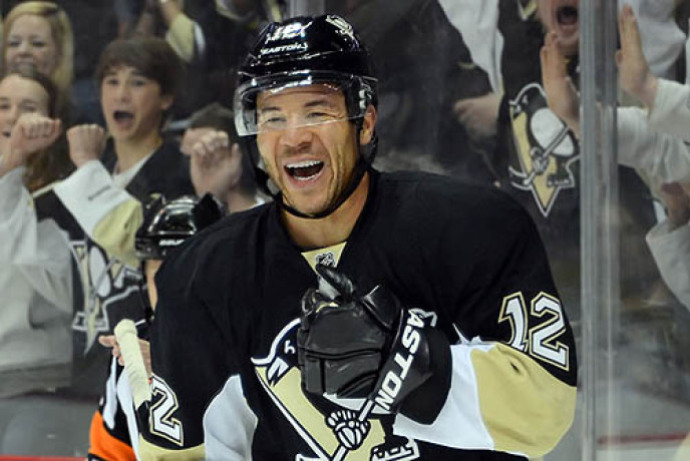 The night that happened felt like a damn party on social network. Gifs, photoshops, and amazing jokes were made in celebration of Iginla coming to Pittsburgh. Think about it, the Pens already have Evgeni Malkin and Sidney Crosby, along with one of the deepest supporting casts in the entire NHL. Now you're adding a former Hart Trophy winner, one of the most likable guys in the past decade in Iginla, who just so happens to be searching for his first Stanley Cup championship.
That's a special situation.
Now that we've seen this amazing player in one of the most amazing trade turnarounds in NHL history in motion, I think all Pens' fans and hockey fans in general need to take a step back and appreciate what is going on. Iginla is a special player still, even at the age of 35.
Currently Iginla has 12 points in 10 games this postseason. That's good enough to have him now fifth in the playoffs in points. For some reason I keep hearing grumbling from yinzers saying that Iginla could be doing more and that he looks slow out there. To those people I simply ask that you shut the f*ck up.
Iginla is actually over performing now if you consider that he is playing out of position and not getting the proper amount of time on the powerplay. Iginla has been playing on the left wing on a line with Malkin and James Neal. Iginla has never played left-wing before. In 16 seasons in the league Iginla has played right wing, but not anymore since he's been with the Pens. That's a huge adjustment for a guy in the twilight of his career.
On top of that Iginla has had to get adjusted to being on a new team and city after spending 16 seasons in Calgary, Alberta with the Flames. Iginla is a professional and a special player so things like that aren't going to hinder his performance. But they could always be used as excuses.
In the perfect situation, Iginla would be playing on Crosby's right wing. Before game four, Iginla's only even-strength goal of the postseason had come while playing on the right wing of Crosby. Kunitz would then go back with Malkin and Neal, which was the best line in hockey last year. If you agree you should read this
amazing article by Dejan Kovaceciv
from the Tribune Review. It talks about this very discussion.
Fact is, Iginla will most likely stay with Malkin and Neal, and those three guys are so good that even having one of the players out of position won't stop them from being productive. My theory is that you should put everyone in their position that is going to give them their best chance to succeed. That would be Iginla playing on the right wing. But we're beating a dead horse that has already been turned into glue.
Especially considering that Iginla scored two goals in last night's game against the Ottawa Senators.
What's more critical to me is Iginla being back on the powerplay. I have no idea why he's not getting the proper amount of powerplay time. In games two and three against the Senators, the Pens' powerplay went 1-12, with Iginla getting any time on the powerplay at all.
Even in last night's win over the Sens, the powerplay went 2-5, but the first two powerplay oppurtunites were abysmal too watch. Iginla was dominant on the powerplay his entire career in Calgary, and he's been pretty damn good on it since he's been in Pittsburgh. The shot he has from the left point is the equivilant to a f*cking missile.
The powerplay should be Crosby, Neal, Malkin down low, with Iginla and Paul Martin on the points. Iginla is calm and confident, not erratic like Kris Letang. The powerplay was operating at a better rate with Iginla on it. Last night, Matt Cooke and Jussi Jokinen had around the same amount of time on the powerplay as Iginla, that's a slap in the face to one of the best players in the league over the past decade.
Iginla has been everything we had hoped and thought he would be for the Pens. This is fun and exciting and I hope to God I get to see him host Lord Stanley's Cup as a Pen. I just think he could be doing even better if he's put if Dan Bylsma and the Pens use point him the best position to have that chance.
What a player and what a guy. Enjoy him playing for the Pens while he's here.