Memorial Day 2013 is upon us.
For those who may be unfamiliar, Memorial Day is an American holiday in which we honor our fallen military heroes with parades, barbecues and paint sales. We celebrate this holiday on the last Monday of May each year.
On Memorial Day 1998, a mind-numbing 15 years ago, a young Private Brian stood in formation at Sand Hill, Fort Benning, Georgia. I can attest to the fact that the experience of Army Basic Combat Training for an Infantryman was disturbingly similar to Stanley Kubrick's Full Metal Jacket. The exception was that we had three Drill Sergeants and weren't allowed to keep loaded weapons.
Full Metal Jacket (1987). Photo: reddit.com
That day, we were readying to go "into the field" for the final training exercise before graduation, a week-long endeavor, when our Drills
broke character to discuss with us, as mentors instead of wardens, the holiday and life in general. Any time a Drill Instructor did so, you paid especially close attention. From that hour, the two most important things said, in my opinion, were:
"Nobody gives a shit what you did today or yesterday. The true value of a [person] is in what they will do tomorrow."
and
"People will criticize you for being what you are and criticize you more for not being what you're not. F--- them. Figure out what you are and work hard at that."
The Drill Sergeants were talking about war and life, not sports per se. Yet these words apply to everybody. They are universal truths.
The Pittsburgh Penguins are built from a great number of pieces, just as our military is. They have strengths and weakness and each are amplified with the pressure of the Stanley Cup Playoffs. When operating at peak efficiency, you see results like the 7-3 drubbing of the Ottawa Senators in Game 4. When they're not, you see something. You see something more resembling the first round series with the Islanders.
In order to advance to the Eastern Conference Finals and beyond, the Penguins need to remember only two things.
Yesterday doesn't matter. You are strongest when you remain true to yourself.
Photo: zimbio.com
Sidney Crosby needs only to be Sidney Crosby. Evgeni Malkin needs to be "Score" and not "Prospect" when things don't go his way for a stretch. Matt Cooke needs to continue to ride the line. James Neal and Jarome Iginla need to shoot the puck. Kris Letang needs to skate with the puck. Brenden Morrow needs to be tenacious. Brooks Orpik and Paul Martin need to keep shutting down opposing offenses.
Likewise, Craig Adams needs only to be a dependable forechecker. Tyler Kennedy needs to keep skating hard. Douglas Murray needs to remain immovable. Jussi Jokinen needs to keep winning draws. Matt Niskanen needs to dump the puck into the offensive zone. Vokoun and Fleury need to support each other as needed.
That is who they are. They have shown that when they stick to who they are, they are virtually unstoppable. And the goal of every team is to take them away from who they are.
Wednesday night's 7-3 win was nice. But that was Wednesday night. Nobody cares. The world has moved on from that and Game 5's scoreboard is currently set at 0-0 with 60:00 left in regulation.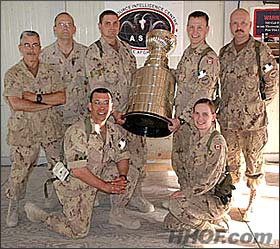 Photo: hhof.com
Some people were born to be heroes. Most were not. Wars and Cups are won as much by the people whose names are more easily forgotten in time as those who become the stuff of legend. Only the Stanley Cup ensures that those who claim victory are remembered by name, no matter their role.
So this weekend, as you prepare to watch what remains of the playoff hockey season, fire up the grill or both, take a moment to think about the lessons offered by the men and women who wear a uniform. Hope, for Cups' sake, that the Pens are following what would have been my old Drill Sergeants' advice.
Then go buy some paint.